Microsoft's Bing is about to get a major overhaul, with a new sidebar that shows information from Facebook and other social networks.
The "new Bing," as Microsoft calls it, consists of three columns on the search results page. The far left column is the widest of the three, and lists traditional search links. In the middle, a "Snapshot" pane shows relevant information directly on the search page, such as restaurant reviews, maps and hotel room rates. On the far right, a gray "Sidebar" shows social search results.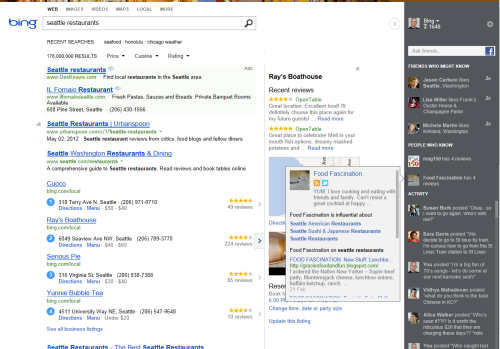 The Sidebar is the most interesting part of the makeover. Users can ask questions to their Facebook friends directly from the search page, and see a list of who might know about a given topic. From the Sidebar, users can add comments on Facebook and pin Bing searches to their posts.
The Sidebar also suggests "top experts and enthusiasts" with knowledge about a topic, based on their public postings on Facebook, Twitter, Foursquare, Quora, LinkedIn, Blogger and even Google+. On the bottom half the Sidebar, an activity feed shows posts from Facebook friends who've chosen to share with Bing.
The new Bing is clearly an assault on the way Google handles social search. With Google's "Search Plus Your World," Google+ data gets prominent treatment in the main search column. Many Google searches now show an option for "personal results" at the top of the page, and other search results may be affected by the user's Google+ contacts.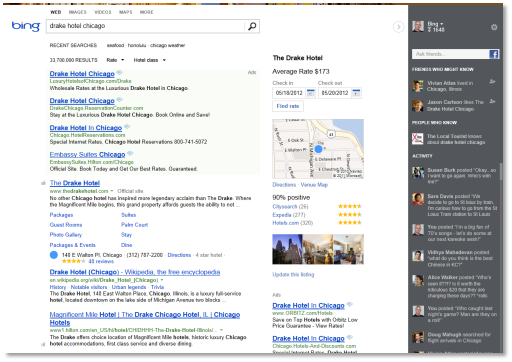 In a blog post, Bing's Derrick Connell and Harry Shum make a not-so-subtle jab at Google's approach, though they don't mention the company by name. "Instead of cluttering your results with social updates, we're honoring the purity of the core web results making it easier to focus on the links you need to get things done," they write.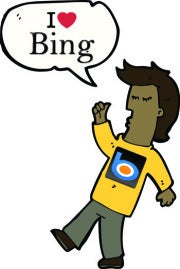 It helps that Microsoft has access to Facebook. The two companies have a rich history–Microsoft was an early investor in Facebook--resulting in several product partnerships through the years. Google, meanwhile, has ventured out on its own with Google+, but the network is not nearly as popular as Facebook. Google is trying to prop up its social network by integrating it with other products, but critics have slammed that approach, saying the company has lost focus on core search.
At a glance, Bing's Sidebar seems like a more sensible way to wed social networking and traditional search, but I haven't actually tried it. Microsoft says it will roll out the new Bing in the coming days. Users who want to be first in line can sign up for an e-mail alert.
Follow Jared on Twitter, Facebook or Google+ for even more tech news and commentary.