Just when you thought you were safe from Facebook's facial recognition software, there's a new app in town using the social networking site to tag photos automatically. It's called Klik, and is every bit as creepy as the facial recognition software that Facebook tried to use.
Available for the iPad and iPhone, Klik connects to your Facebook profile and scans the pictures of your tagged friends. Klik will then auto-detect the faces using that tagging information, and does so in real time when taking pictures from the app or from pictures in your photo library on your iDevices. To use Klik, you need a Facebook account, and iOS 4.3 or above.
In my own tests, I found the facial recognition to be creepily accurate, although the photo needs to be pretty clear and the faces in the image pointed at the camera for best results.
When Klik cannot match the face to a friend, it asks for the user to tag that person. In the live picture-taking option, a question mark appears above the person's head with an option to help Klik 'learn' the face. The learning feature is not available when using pictures from your photo library, which forced me to tag those photos manually. That negated the app's niftiness.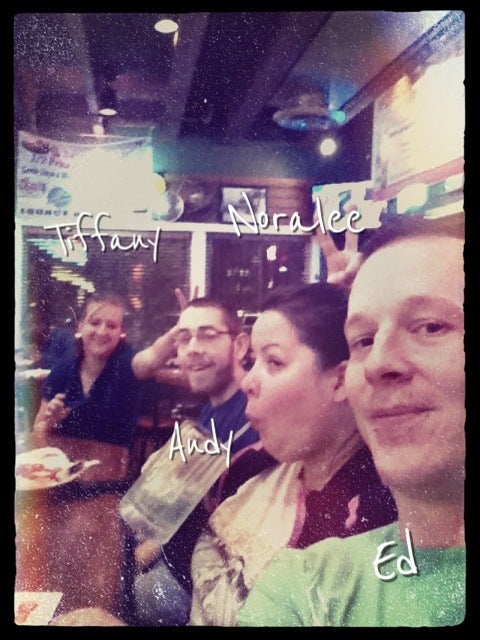 Once the picture is taken and the people tagged, Klik gives the option to add filters to the picture like Instagram does, as well as the option to add the names of tagged people on the photo itself. In addition to Facebook, users can share photos publicly on Klik's website, through Twitter, and by e-mail.
Maybe Useful, But Still Creepy
Klik is a cool app, but has the same privacy concerns as Facebook's facial recognition does. It is not clear what the app does with tag data from detected faces, and whether or not it stores this information: If it does, that may be too invasive for some. Klik also combs through you and your friend's photos. While you may have no problem with what it does here, chances are that one of your friends does.
I do think the app has a place for frequent Facebook photographers and taggers. It makes a tedious process a fairly simple one. At the same time, some people don't want anybody but friends going through their Facebook information, and we must respect that.
For more tech news and commentary, follow Ed on Twitter at @edoswald, on Facebook, or on Google+.