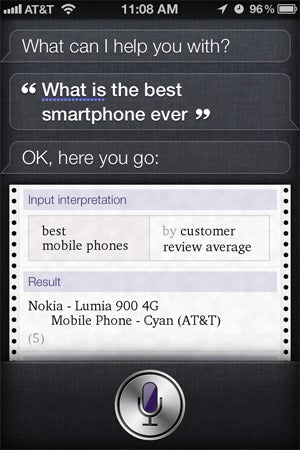 You would think Apple's virtual assistant Siri knows who pays its bills. Apparently not–when asked, Siri says the best smartphone ever is Nokia's Lumia 900.
What caused this apparent oversight? Siri uses Wolfram Alpha, which answers questions based on sets of data maintained by the company's researchers. When it comes to smartphones, somebody at the company must be asleep at the wheel. Lumia 900's high rating is based on just five reviews of the device, all of which give the phone five stars.
Wolfram's list of smartphone reviews boggles the mind in what it calls "the best smartphones," though: HP's TouchPad tablet comes in third (it's not even a phone!) behind the absolutely stunning LG 500G on Tracfone. Nokia's Lumia 710 gets high praise, as well as Samsung's Illusion and Focus S.
Excuse this moment of PCWorld pride, but take a look at our reviews. We gave the Lumia 710 a so-so review, and didn't even bother to review the prepaid 500G–just look at it and you will understand why. Wolfram Alpha gets the benefit of the doubt on the Lumia 900 and Focus S: PCWorld's own Ginny Miles had very good things to say about both devices.
Best Buy Involved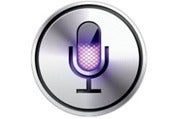 Notably missing are any Apple iPhone models or any Samsung Galaxy S for that matter. So who's behind this odd list of the best and brightest in smartphones? I peered into Wolfram Alpha's data source information and found the answer: Best Buy.
Best Buy's reviews power Wolfram Alpha's answers to these types of questions when it comes to electronics. Indeed, Best Buy's page for the Lumia 900 show those same five glowing reviews. Maybe Wolfram Alpha needs to rethink its data sources?
Apple shares a bit of blame for this oversight too. I tried to trip Siri up repeatedly and failed each time. Take this response for example: Ask it what's the best tablet ever. Siri's response? "The Apple iPad is the best. And that's just not my opinion."
Now that sounds like the Apple we all know and love (or hate).
For more tech news and commentary, follow Ed on Twitter at @edoswald, on Facebook, or on Google+.