At a Glance
Expert's Rating
Pros
Stunning and rich visuals
Unique and humorous soundscape
Quirky and endearing storyline
Cons
Short, without much replay value
Some puzzles too simplistic
Our Verdict
The colorful and surreal world of Botanicula, Amanita Design's newest point-and-click game, won't disappoint.
Botanicula is magical. Its beautiful world and creatures that fly, dance, and sing can baffle and amaze, and even make you laugh out loud. The makers of the critically acclaimed Machinarium, Amanita Design, brings you their latest point-and-click creation, Botanicula. You play this game as a team of five plant and insectoid characters who adventure through the branches of a tree to save it from parasitic spider-like enemies.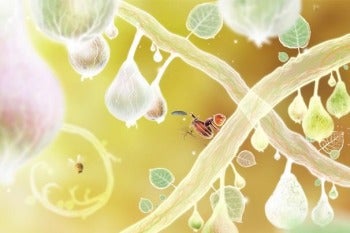 A lot of Botanicula's gameplay is comprised of clicking around to solve puzzles and to gain items that move your journey forward. Puzzles are simple in the beginning and become more complex later on. To add intricacy to the puzzles, the environment sometimes changes; for instance, you can interact with a scene and come back to find that new flowers have sprouted, or that a previously sleeping chestnut has now started playing ball with his comrade. You won't go far with clicks alone–sometimes you'll need to bump, drag, and twirl creatures or plants to get them to work. This is challenging and exciting because you'll have to approach every element differently, uncertain if what you're clicking will even help you solve a puzzle.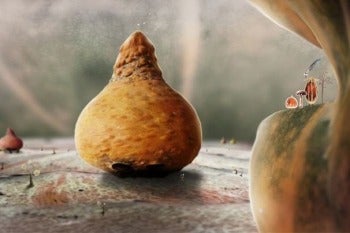 Botanicula excels in its evocative and original soundscape. The game is interesting in that there is no understandable dialogue or text:Characters communicate through images, body language, and vocal intonations. But probably the most unique aspect of this game is the sound effects made by the Amanita music team. Their voices are humorous and endearing; you can hear them saying ""yoohoo" or "bong," or making the slurping sounds of a snail.
The detail and color in art that make-up Botanicula's world is another of its strong suits. The very first scene gives a fine example: It opens with a luminescent tree with beautifully detailed veins, whose buds move to the rhythm of the surrounding fog. A crescent moon hovers above. The harmonious color juxtapositions throughout the game also impress. I was particularly struck by a scene of rainbow-toned magic mushrooms.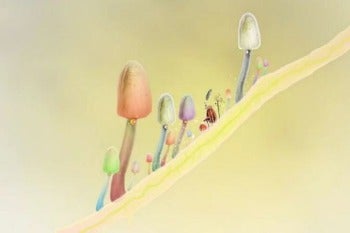 Amanita Design has created a stunning and imaginative game that takes you from the treetops, to the cave of genies and dream adventures, to chestnut villages and the lair of giant tortoises. This sweet and enchanting journey is sadly too short, but one you should really experience if you have an penchant for puzzles and audio-visual delights. Give Botanicula a whirl (and a click, a bump, and a drag).
Note: The Download button takes you to the developer's site, where you can purchase and download the version of the game appropriate to your system.
–Zohra Ashpari