After reading Windows Takes Too Long to Boot, Mark Fraleigh went to MSConfig and unchecked several programs. Now he wants to remove them from MSConfig, altogether.
Unless you actually want to uninstall the programs (which is a whole other issue), the only way to remove a program entirely from MSConfig's Startup list is to edit the Windows Registry.
That's an inherently dangerous job, so it's best to take precautions. Before you begin, create a System Restore point. See How to Create a Restore Point if you need instructions.
Done? Okay, let's get into the Registry Editor:
Click Start (Start>Run in XP), type regedit, and press ENTER. If you get a User Account Control message, click Yes.
Once you're in the Editor, navigate the left pane, as if it was Windows Explorer, to HKEY_LOCAL_MACHINESOFTWAREMicrosoftShared ToolsMSConfigstartupreg.
Now it's time for another precautionary backup. But this one only protects the items that you're going to delete. In Regedit's left pane, right-click the startupreg key (a key is Regedit's equivalent of a folder), and select Export. Save the file.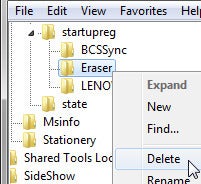 Now expand the startupreg key by clicking the little triangle to its left. You'll find keys below it for all of MSConfig's unchecked autostarters. To remove one, simply right-click it and select Delete.
Contributing Editor Lincoln Spector writes about technology and cinema. Email your tech questions to him at answer@pcworld.com, or post them to a community of helpful folks on the PCW Answer Line forum. Follow Lincoln on Twitter, or subscribe to the Answer Line newsletter, e-mailed weekly.