Embattled Yahoo CEO Scott Thompson has left the company, Yahoo announced Sunday, after more than a week of controversy over questions about embellishments to his resume.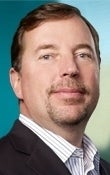 Ross Levinsohn, who is the company's head of global media, will serve as interim CEO while the board searches for a permanent replacement. Fred Amoroso has been named chairman of the board, Yahoo also announced. Those changes, are effective immediately.
Thompson was hired in early January and was the third CEO to be tapped in just a little over three years, and this latest incident is sure to continue the ongoing turmoil that Yahoo, a pioneer in the Web portal space, has endured.
Besides the executive shuffling, the company also struck a deal to end a proxy fight by activist shareholder Daniel Loeb, who leads the Third Point investment fund, which owns about 5.8 percent of Yahoo. Loeb was the one who brought the resume embellishment to light and notified the U.S. Securities and Exchange Commission of it, plunging the company into its latest controversy. Loeb and two of four other people that he had pushed the board to name as directors will be seated on the board. The other two are Michael J. Wolf and Harry Wilson. Former NBC chief Jeff Zucker, who was the fourth candidate proposed by Loeb, has been withdrawn as a board nominee.
Five current members of the board who were to leave their positions at the company's upcoming annual meeting will resign their posts as of Wednesday, the company said. Besides non-executive Chairman Roy Bostock, whom Amoroso replaces, they are Patti Hart, VJ Joshi, Arthur Kern and Gary Wilson.
"The Board is pleased to announce these changes and the settlement with Third Point, and is confident that they will serve the best interests of our shareholders and further accelerate the substantial advances the Company has made operationally and organizationally since last August," Yahoo said in a statement announcing the changes.
Thompson's departure comes "after a poorly handled controversy," Jeff Kagan, an independent technology analyst said in an e-mail Sunday. "Yahoo has been struggling over recent years and this new incident only makes matters worse for the company."
He predicted that "this CEO mess is going to leave Yahoo all tied up for at least several more quarters."
Series of CEOs
Thompson, who was previously an executive with eBay, was hired by Yahoo to try to get the struggling Internet company back on track after years of leadership changes in the midst of unsteady financial performance and competitive pressure from Google and more recently from Facebook. But then Loeb pushed his own slate of candidates — himself included — for the board of directors and as part of that, revealed that Thompson did not have a college degree in accounting and computer science, contrary to what was on his resume and information in the company's financial filings.

Thompson sought to quell the situation by saying it was the fault of the head-hunting firm Heidrick and Struggles, which he said was responsible for the mistake when he was in the running to become president of eBay's PayPal unit in 2000. However, Heidrick and Struggles replied that it was "verifiably not true" that the firm was responsible for the mistake. The firm told Yahoo's board that it had a copy of the resume Thompson submitted that included the computer science degree on it, according to published reports.
He also reportedly met with Yahoo employees in two meetings to try to clear up the matter and in a statement released by Yahoo he apologized that questions about his resume had become a "distraction." However, those attempts were unsuccessful and the controversy continued.
Thompson was hired in January as CEO to replace Carol Bartz, who was fired by the board last September. Her blunt approach, complete with often colorful language in public speeches, was at first seen as a breath of fresh air for the ailing company, but that quickly changed.
Bartz was hired in 2009 to replace Jerry Yang, the company's co-founder who had stepped in to the CEO role in mid-2007.
Thompson quickly took steps to try to improve the company's ailing fortunes, cutting 2000 jobs and making management changes. Yahoo's first-quarter sales figures beat analyst estimates and it also reported the first revenue increase in more than three years, bolstering hopes that the company was on the mend.
But Loeb found fault with Thompson's approach and began his public campaign in earnest to unseat the CEO, saying in April that Thompson should not have announced job cuts without having first provided more detailed plans for the company. He also argued that Yahoo should have accepted Microsoft's previous acquisition bid.
News that Yahoo would soon announce Thompson's departure first broke on the All Things D blog published by The Wall Street Journal on Sunday, with The New York Times soon after reporting that the announcement could come as early as Monday. The board of directors reportedly held a conference call to discuss the matter Sunday.