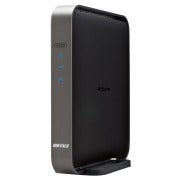 Buffalo Technology says its first 802.11ac AirStation products–a router and a wireless media bridge–are on sale now at Fry's, Frys.com and Newegg.com, making Buffalo the first to market with next-generation gigabit Wi-Fi gear.
At this writing, I was not able to verify the claim (this blog entry was written based on an embargoed news release). But if true, Buffalo will have snuck past Netgear, which last month said its R6300 router would be the first based on the new standard. Netgear said the R6300 would go on sale in May, but as of Sunday night it did not turn up in a Google Shopping search, or in searches of a couple of Netgear's major retail partners. (I'll update these results as needed.) Update: I've since found the Buffalo router and media bridge on Newegg.com.
Buffalo's initial 802.11ac offerings are the AirStation AC1300 / N900 Gigabit Dual Band Wireless Router (WZR-D1800H) and the AirStation AC1300 / N450 4-Port Gigabit Dual Band Wireless Ethernet Bridge (WLI-H4-D1300), each priced at $180.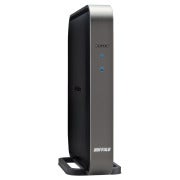 With theoretical speeds of up to 1300 megabits per second on the 5GHz band, networks based on the IEEE 802.11ac standard are supposed to be up to three times faster than today's 802.11n networks. These super-fast Wi-Fi networks were created with streaming media in mind, and Buffalo says customers who buy both products will enjoy superior performance for up to four gigabit-ethernet capable home entertainment center devices (e.g. TVs, Blu-Ray players, media streamers and game consoles) connected to the ethernet ports on the media bridge.
Networks based on 802.11ac gear will only experience top speeds on the 5GHz band between components that support 802.11ac. But to maintain backwards compatibility with the many existing Wi-Fi devices that only work on the 2.4GHz band (all 802.11b and 802.11g products, and many 802.11n products), 802.11ac gear also supports 2.4GHz operations–but only at 802.11n speeds of up to 450 mbps.
Buffalo showed a prototype of its 802.11ac router at this year's Consumer Electronics Show in January, as did TrendNet. Both Buffalo's and Netgear's routers are based on 802.11ac chips from Broadcom, which were announced just before the show. Other major Wi-Fi vendors, including Cisco, D-Link and TrendNet, say they'll have their first 802.11ac products sometime this summer.