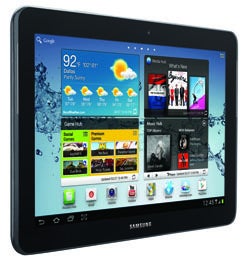 The Samsung Galaxy Tab 2 is now shipping, and PCWorld is running it through our gauntlet of tests to see how it compares with its predecessor. Our full review is forthcoming, but in the meantime, here's a quick look at the Tab 2's performance as compared with the original, nearly year-old Galaxy Tab 10.1.
In short, last year's tablet actually outperformed the new model on some of our tests. Some metrics, such as our Sunspider tests, were effectively identical. Others showed a distinct trend toward sluggish performance by Tab 2 10.1. For example, the Tab 2's cold start-up time was 22 percent longer than the original Tab, 44 seconds to the original's 36 seconds. And its results on our GLBenchmark were mixed — the Tab 2 slightly outpaced the the original Tab on the Egypt Offscreen and Pro Offscreen tests, but it lagged slightly on Egypt Standard and Egypt Pro Standard.
Hardware Factors
Both the original Tab 10.1 and the new Galaxy Tab 2 10.1 run on a 1GHz dual-core processor and have 1GB of RAM. But where last year's iteration used an Nvidia Tegra 2 processor, the Tab 2 has a Texas Instruments OMAP 4430 processor. How much of the changed performance is due to the new processor engine and how much is due to any differences between Android 3.2 and Android 4.0.3 is unclear. It is worth noting that Android may be somewhat to blame here; the Asus Transformer Pad TF300 performed similarly to the new Tab 2 in our startup time tests.
What is clear, though, is that the new Galaxy Tab 2 isn't even coming close to the performance of the current Android leader of the pack, the Asus Transformer Prime TF201. It's a bit strange, since last year's Galaxy Tab 10.1 set the bar for so long.
This second-gen model, like its value-priced 7-inch cousin the Tab 2 7.0, feels more like Samsung has reinvented the Tab line to assume a more budget-oriented position in performance and price. The price angle works well for the 7.0 Plus, but if the company is truly gunning for a "budget" slot with the Tab 2 10.1, it should have gone out the gate priced significantly less than the current $400.
Right now, there's a lot of tablet competition in that $400 or less space, with Apple's iPad 2, Acer's Iconia Tab A200, and Asus' Transformer Pad TF300 all vying for a piece of your wallet.