At a Glance
Expert's Rating
Pros
A solid, comprehensive interface
Saves metadata into files
Cons
No image editing
No image upload features
No face recognition
Our Verdict
Professional photo cataloging application Daminion is aimed at photographers and studios.
Back in the days of traditional film photography, it was easy to see when you had many photos: Shelves full of albums (or shoeboxes bursting with prints) were visible. Today, you could have hundreds of thousands of photos in your collection, and they would take up next to no physical space. Organizing all of those photos, however, is still a massive undertaking. Daminion Standalone is a free application that tries to help you tag and sort your photos in ways that make sense.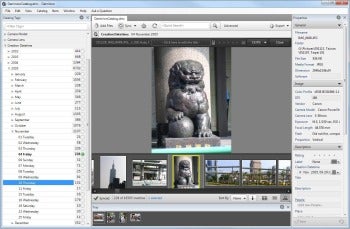 Daminion offers a solid, sensible interface, which is similar to Adobe Bridge (available as part of various Adobe products, including Photoshop and Illustrator) and Google Picasa. Along the left edge of a window lies a catalog bar you can use to navigate your collection by label, camera model, creation date, and more. Along the right edge is a metadata bar showing information about the currently selected photo, including rating, focal length, and more. Both Picasa and Bridge let you rate photos: Picasa lets you star them as favorites (with just one star), and Bridge offers a five-star scale. Daminion outdoes both of them, offering a five-star scale with half-stars–meaning, eleven different ranking points if you count "no star" as a ranking. Whether or not you need such fine-grained control over ranking is another matter.
Daminion tries to help you categorize your photos by pulling in their metadata, including the lens and camera model used, and the date taken. You still have to manually categorize your photos if you want any of the other filtering features to work: You must fill in the Place, Event, Keywords, and Categories fields–that's a lot of typing. And perhaps most tedious of all, you need to fill in the People field of each photo manually: Daminion does not include face recognition, a feature that Picasa has been offering for some time now. But unlike Picasa, Daminion saves image metadata into the images and not just in an external database or INI file. This makes a big difference, because the information you edit stays with the files, no matter what happens.
Another area where Daminion falls short of Picasa is photo editing. Picasa does not try to be Photoshop, but it does offer simple ways to fix crooked or badly exposed photos, and even lets you add fun effects. Daminion has none of that functionality: It lets you send images to an external editor, but that is it. And last but certainly not least, Daminion does not let you share your photos on any social service such as Flickr or Google Plus.
Daminion is a powerful, robust product, but it is clearly not aimed at home users and amateur photographers. Professional photographers and studios can be expected to manually tag their photos with numerous fields, and do not require sharing features. For them, Daminion might be an attractive free alternative for Adobe Bridge. They may also find use for the paid version, Daminion Server, which lets multiple users work on the same photo library concurrently using the network.
–Erez Zukerman