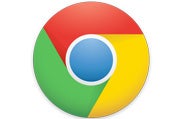 How many browser tabs do you keep open on your work computer during the day? Five? Maybe ten? If you're a Google Chrome user, there's now an easier way to access those tabs on your other devices, including a laptop or phone, without enduring a cumbersome copy-and-paste ritual.
The latest stable release of Chrome makes this possible, but only if you sign into Chrome with your Google account.
After you sign in, your open Chrome tabs sync across all of your devices. Google is rolling out the tab-sync feature gradually over the next few weeks, so you may not have access to it just yet.
Signing into Chrome syncs other browser settings too, including your bookmarks, apps, extensions, history, and themes.
Well, that's just dandy…but what if your other device happens to be an iPad or iPhone? Currently there's no iOS-specific version of the Chrome browser, although that may change soon. Macquarie Capital reports that Google is readying Chrome for iOS, which may launch in the second quarter at the earliest, or almost certainly before the end of 2012.
Contact Jeff Bertolucci at Today@PCWorld, Twitter (@jbertolucci) or jbertolucci.blogspot.com