Virtual machines is one way enterprise IT departments addresses the issue of security when users want to use their own platforms. Virtualized solutions like Citrix and VMWare allow users to run approved applications. These applications run in a server in the local or internet cloud.
However, some power users, including heavy users of graphics and design applications need access to more robust graphics than most virtual solutions provide. The latest versions have allowed high performance GPUs to be virtualized, but it was an expensive solution, since each user still needed a dedicated GPU.
The latest Kepler GPU line from Nvidia, which is the heart of the GTX 680 graphics card, contains hardware virtualization hooks, including a hardware memory management unit capable of translating virtual addresses. But just the hooks alone don't make a solution, so Nvidia is including a software based GPU hypervisor and manageability tools. The entire package is called Nvidia VGX, and will also include boards running four modest GPUs with just 192 cores each, which can be installed in enterprise servers.
The VGX Hypervisor integrates into commercial hypervisors, like Citrix XenServer. When users are running graphics intensive applications off the server, the right amount of GPU resources can be virtually allocated. It's a more cost effective solution than providing a graphics card per user.
Gaming from the Cloud
Cloud gaming services, like Gakai and OnLive, render games on servers in the cloud using massive banks of GPUs. However, their Achilles' heel has been latency. While part of this issue is natural latency due to moving packets over the Internet, the cloud-based gaming providers have added latency due to the need to capture and encode the frames to video.
Nvidia's solution include boards with two Kepler GPUs, totaling 3,072 GPU cores. Each GPU also has a fixed hardware video encoder built in. The combination of Kepler's power efficiency and the fixed function video encoder substantially reduces both power and the latency due to the encode step. Gamers playing games streamed over the Internet this way should see lower latencies and an improved gaming experience. Server side latency is reduced to as little as 10 milliseconds.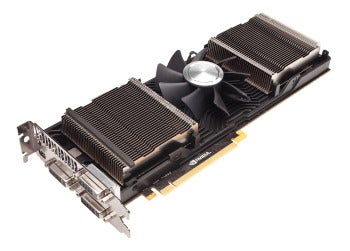 What's more, gamers using these streaming services can play on any platform – PC, Mac, tablet or phone – with just a lightweight client application. Nvidia CEO Jen-Hsun Huang noted that some LG HDTVs will have Gakai's client built into their smart TV infrastructure.