Apple is looking to increase the iPhone's screen size from 3.5 inches to at least 4 inches, according to a Wall Street Journal report, a move that's presumably being made because of stiff Android competition.
This is not the first suggestion Apple will put a bigger screen on the iPhone this year. In fact, such speculation has been rumored for some time, yet Apple has consistently kept the iPhone display at 3.5 inches for every iteration of the device since its launch in 2007.
As the Apple hype machine is put in motion with just a few weeks until the company's Worldwide Developers Conference in June, talk about what the new iPhone will bring is intensifying. Since Apple didn't do any radical changes to the iPhone design last year, a revamped look is expected to come this year.
The Wall Street Journal report does not give any specifics on how big the screen of the new iPhone would be, saying it would measure "at least 4 inches diagonally," which indeed would be bigger than the current 3.5-inch display. But if it's any indication, an earlier report from Reuters put forward the more precise diagonal measurement of 4.6 inches.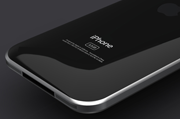 Perhaps what fuels the interest in a larger-screen iPhone is that in the past couple of years Android manufactures have been pushing the size of their phone displays close to 5 inches, in a bid to differentiate themselves. With a bigger-is-better mentality, the Samsung Galaxy Nexus has a 4.65-inch screen, all the way up to 4.8 inches on the Galaxy S III or 4.7 inches on the HTC One X.
As my colleague Jared Newman explains, many snub the idea of a bigger iPhone display because easy one-handed operation is a big part of the iPhone's design, and that's just not possible with a display of around 4.6 inches. In defense of a larger-screen devices, Android manufacturers have found that that allows them to create thinner designs on phones. By making the screen bigger, Apple also would be able to deliver a more radical redesign of the iPhone. The question is, will Apple manage to maintain the highest pixel density phone display on the market if it decides to go big?
Follow Daniel Ionescu and Today @ PCWorld on Twitter