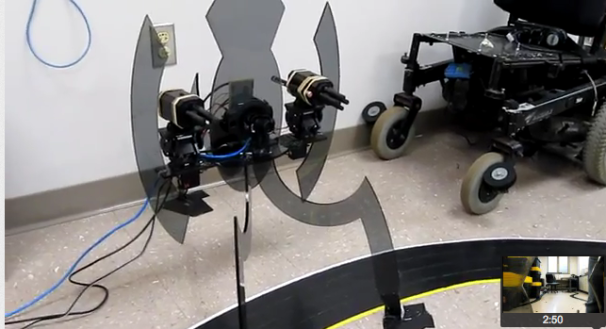 Unlike previous Portal turret builds, which looked authentic but did little more than light up and play sounds, the turret that Kevin Swanson built for his graduate Mechatronics final project does all that and actually shoots foam darts at you–if you're wearing a pink shirt, of course. (The pink shirt is so the target-tracking software, written in MATLAB, can pick you out from the chaotic background of a modern lab or dorm environment.)
The project uses two dart-launchers each made from a pan-tilt servo mount and a USB missile launcher and controlled by an Arduino Uno, plus an IP webcam backed by the aforementioned MATLAB targeting software. Judging from the video, it looks to be fairly impressively accurate at close range.
And it does, indeed, still taunt the user, just like in the game. ("You see it's getting a little anxious," Kevin says at one point in the video.)
It's even got the little laser tracking dot, although that seems less to improve targeting accuracy and more to let you know that you've been targeted. The one thing it's missing is a casing–once that's in place, it will be ready to "dispense product" at a testing facility near you.
[YouTube via VentureBeat]
Like this? You might also enjoy…
Get more GeekTech: Twitter – Facebook – RSS | Tip us off