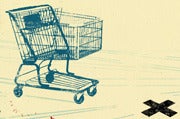 Once upon a time, it was considered insane to compete against eBay. If you sold custom-made goods like clothes or jewelry, you sold at flea markets on weekends, and eBay the rest of the time. The idea that anyone would shop anywhere else for your handmade merchandise was silly.
But anyone who's shopped on eBay knows how tough it can be to find certain goods. A search for "vintage t-shirt" may turn up more than 300,000 results, very few of which are either vintage or t-shirts. As a merchant, sellers find themselves competing with a huge number of competitors, ranging from junk resellers to mass producers peddling knockoffs.
Sensing an opportunity, Etsy launched quietly in 2005 and has carved out its own little empire in the form of an alternative marketplace devoted to the sale of handmade (and vintage) items only. Without all the riff-raff, sellers have a better opportunity to stand out–and hopefully make more sales.
While it's
quite large, Etsy's 12.3 million listings are dwarfed by eBay's 300 million. In the relatively small realm of homemade and vintage sales, however, Etsy has become a juggernaut in its own right–and is attracting competition of its own. For now, though, Etsy remains considerably larger than all its major competition combined.
We looked at five marketplaces–both big and small–for sellers of homemade, handcrafted, and vintage items. Here's how they measure up, and which ones are where you might consider offering your personally carved tiki idols and handmade bridal veils to the masses. And don't forget: No rules prevent you from cross-listing items on several sites–you don't have to choose just one.
Etsy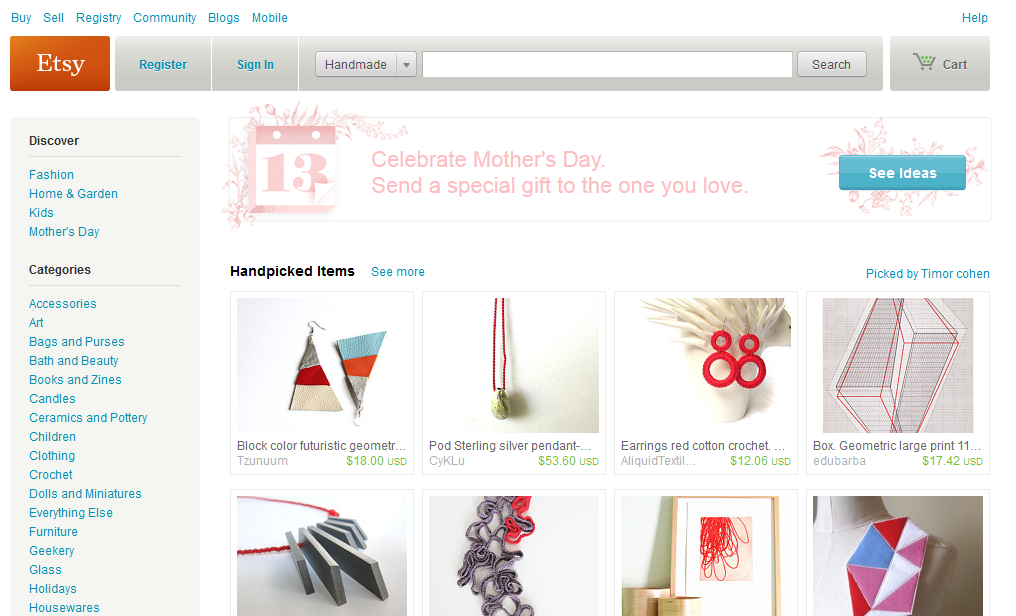 If you're a crafter, Etsy should need no introduction. More than 875,000 merchants run shops on the site, with 12.3 million products available at any one time. Visit Etsy, and you'll find getting around is pretty easy. A list of major categories (Candles, Quilts, Geekery) runs down the left rail, while a selection of hand-picked, curated items can be found in an ever-evolving grid on the home page. Listings are clean and easy to understand, and shipping costs are clear and visible. A variety of checkout systems are supported, including Etsy's newest, homegrown payment processing option. And if you want to go mobile, Etsy has both an iPhone app and a Web-optimized version of the site ready.
Etsy has set the bar for what is and isn't allowable for sale on most sites for handmade goods, and most of the sites we looked at follow Etsy's lead pretty closely. Merchandise falls into three main categories: handmade items, vintage items, and crafting supplies that can be used to make items in the first category. While it's not a major focus of the site, food sales are also allowed (consisting primarily of cookies).
Etsy is the only site in this roundup to charge listing fees, but at a flat 20 cents per item, they aren't significant unless you're selling very inexpensive merchandise. When the sale is complete, Etsy collects an additional 3.5 percent commission.
The bottom line: Etsy is clean and easy to use, and it's obviously beloved by both shoppers and sellers. If you're selling handmade merchandise, you almost certainly need to be on Etsy.
DaWanda
DaWanda, based in Germany, is the second-largest marketplace in our comparison: It features 130,000 registered merchants, compared to Etsy's 875,000. While there is certainly a critical mass of shoppers from all over the world here, you'll note that all items are priced in euros, not dollars–even if both buyer and seller are in the United States. That may be a plus if you're trying to build a European audience, but it will probably turn away domestic buyers concerned about getting hit with foreign currency charges on their credit card.
DaWanda has no listing fees–though the company says it will be adding them this year–but it does charge a 5 percent closing fee on sold items, which is considerably higher than the 3.5 percent you'll pay at Etsy.
As Europe's largest marketplace for handmade items, DaWanda is a growing company with an expert understanding of the complicated legal, taxation, and business considerations of the Euro region. That might not matter if you just want to sell baby bibs to Midwest moms; but if you're a crafter with your eyes set on a bigger prize, it's worth a look. After all, what business–large or small–doesn't want to "go global" these days?
Bonanza
Heavily focused on higher-end clothing and fashion, U.S.-based Bonanza has just 25,000 registered businesses. But its 4 million listed items put its total inventory at about a third the size of Etsy. Even though that means your store might have more trouble standing out, that's good news for shoppers, as deep racks may keep customers browsing the site longer. Just as in the real world, no one wants to shop at a store where the merchandise looks thin and picked over.
Bonanza supports copious checkout options and has no listing fees, but it does charge a 3.5 percent closing fee. Another option unique to Bonanza is its Managed Merchant program, which the company describes as "a valet service for your booth." Sign up for it, and Bonanza will do some of the heavy lifting of creating listings for you, adding metadata such as color, brand, and material information.
Next page: More on Bonanza, plus Zibbet, iCraft–and site stats and data.
Bonanza will also tag your items and upgrade the quality of the photos you provide. This service costs 5.9 percent of your first $500 in sales, and 1.5 percent of any sales beyond that amount (in lieu of the standard closing costs). This is a good option for merchants who'd like to spend more time crafting and less time mucking with their listings.
Every Bonanza store has a built-in chat system, provided free of charge by the site, and–as the company promises–the site is quite easy to use. At this writing, a mobile version is "currently weeks away," according to the company.
As a site, Bonanza looks good and feels professional. The selector system for clothing (see screenshot on preceding page), feels exceptionally well-polished. If the site continues to grow, it could become a very compelling option for crafters.
Zibbet
Although Zibbet has been live for three years, it remains small in comparison to its competition, with just 145,000 products listed for sale. It's based in Australia; most sellers, however, seem to be based in the United States, and items are listed in U.S. currency. Currently, all payments are settled through PayPal, but Zibbet says more checkout systems are on the way.
Why consider Zibbet? Mainly for its fee structure: If you're a small merchant, you'll pay no listing fees and no closing fees at all. Really: For up to 50 items, selling on Zibbet is free. Of course, there's an upgrade option: Pay $9.95 per month or $79 per year, and you get "unlimited listings, greater site exposure, a fully customizable shopfront, and advanced selling features."
Listings give store owners plenty of room for customization, including a massive promotional banner that is easily the biggest element on the page. Sellers who want to imbue their sales pages with the maximum amount of artistic impact should take a long look at Zibbet.
iCraft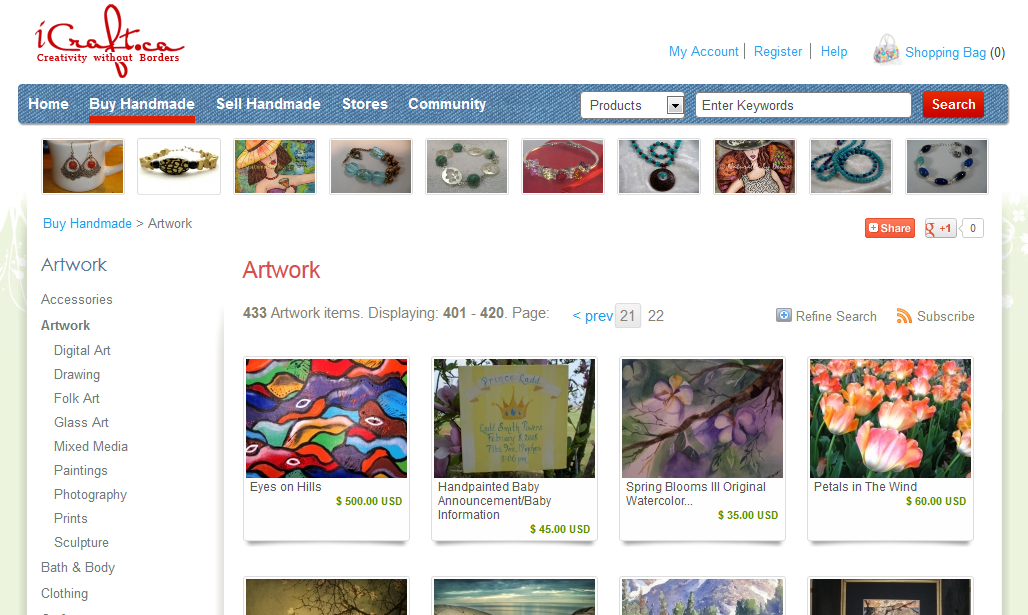 A tiny outfit based in Canada, iCraft's 2300 merchants and 30,000 items on sale are a rounding error compared to most of the other sites in our comparison. Another complicating issue: Items are listed in either Canadian or U.S. dollars, depending on where the seller is located, and most sellers don't ship across the border. There's no apparent way to filter based on location, so shoppers must check each item to see if they can legitimately purchase it.
iCraft charges merchants a $25 (Canadian) registration fee to join the site. Once enrolled, merchants pay for listings based on a sliding scale, ranging from zero (for up to five items listed at any one time) to C$15 per month (for unlimited listings). There are no other listing or closing fees.
Unlike most of the other sites in this roundup, iCraft focuses strictly on handmade items; it does not allow the sale of vintage items, food items, or crafting supplies. Resellers are not allowed on the site at all. iCraft reviews all submitted items individually for quality and uniqueness to ensure mass-produced items are kept out.
iCraft is decidedly small, but highly devoted merchants–particularly Canadian ones–might find it a compelling option.
Homemade Goods Merchants: By the Numbers