At a Glance
Expert's Rating
Pros
Good overall performance
Reasonably priced
Our Verdict
Reasonably priced, the VS247H-P display lacks ergonomic adjustability but is a good all-around performer.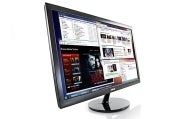 In choosing to buy the $170 Asus VS247H-P, you won't get quite the same great screen quality as you would with the higher-rated models in our recent roundup of 23- and 24-inch monitors–but you certainly will save some money.
This Asus model sports a shiny, black, modern look with a round base and a forward-leaning arm. Unfortunately, you can't adjust its height, so you may need to put a riser underneath it for more comfortable viewing. The external power supply allows the unit's body to be thinner and to take up a little less room on your desktop.
Employing LED backlights, the VS247H-P achieves a brightness of 300 cd/m2. You can attach your devices to the display through its DVI, HDMI, and VGA ports.
In our five subjective tests, the jury found the 23.6-inch, 1920-by-1080-pixel VS247H-P to be a fine but not exceptional all-around performer. It earned a Very Good rating for its screen uniformity, and Good scores for its text legibility, color quality, viewing-angle range, and motion.
You can find better-performing monitors on the market, but the VS247H-P is worth considering if price is a concern.