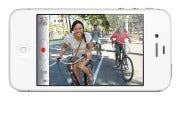 Price cuts for Apple's iPhone have spread to Best Buy, where the retailer has slashed the iPhone 4's price to $50.
The deal is available in stores only, but shoppers can check local availability at Best Buy's Website. Best Buy is only offering a discount on the 8 GB iPhone 4, in both black and white on AT&T, Sprint and Verizon Wireless.
Other third-party retailers have also slashed prices on iPhones in recent weeks. Target and Radio Shack both took $50 off the iPhone 4 and the iPhone 4S, and like Best Buy, both retailers only offered those deals in stores. Of course, all sale prices require a two-year contract.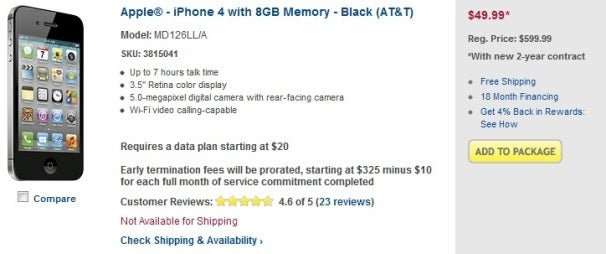 It's tempting to read into the sales as a sign of a new iPhone to come, but keep in mind that third-party retailers have offered these types of in-store deals around this time of year before. Last June, Walmart dropped the iPhone 4's price by $50 for over three weeks. The following August, Radio Shack cut iPhone 4 prices by $30. Apple didn't launch the iPhone 4S until October.
Apple may launch its next iPhone in October as well–at least according to rumors and analyst speculation. The latest iPhone 4 and iPhone 4S in-store sales are, in all likelihood, exactly what they seem to be: good deals and nothing more.
Follow Jared on Twitter, Facebook or Google+ for even more tech news and commentary.