At a Glance
Expert's Rating
Pros
Inexpensive
Solid on-screen performance
Light on features
Cons
Design lacks ergonomic flexibility
CCFL backlight
Our Verdict
Although the E2420L's features are limited, its on-screen performance was solid in tests, making this bare-bones monitor a good budget choice.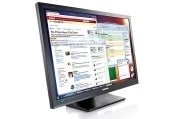 Priced at just $160, the Samsung E2420L is the least expensive display in our recent roundup of 23- and 24-inch monitors. So what's missing? Not screen performance–the E2420L scored reasonably well in our tests. But it is bulkier and less versatile than other monitors we looked at.
In our test group of nine models, the E2420L was the only monitor containing a CCFL backlight. Inclusion of this older technology necessitates a bulkier design (since CCFLs require more space than LEDs do), and it also leads to greater power consumption. Measuring 2.6 inches thick, this Samsung monitor looks positively obese next to the 0.4-inch-thick HP x2301, the thinnest display we examined. And when we applied our power meter, we discovered that the E2420L consumed about 41 watts during use, nearly twice the power draw of many of the LED-backlit monitors in our roundup.
Those aren't the only trade-offs with the E2420L: This monitor's ergonomic adjustments are limited to a few degrees of forward or backward tilt, it supplies just two inputs (DVI and VGA), and it lacks a USB hub.
Despite those drawbacks, however, this 23.6-inch monitor performed fairly well in our quality tests. Providing 300 cd/m2 of brightness and 1920-by-1080-pixel resolution, the E2420L earned Very Good ratings for its text legibility and screen uniformity, Good marks for its color quality and viewing-angle range, and a Fair score for its motion test performance.