At a Glance
Expert's Rating
Cons
Mediocre screen performance
Our Verdict
The x2301 stands out with its striking translucent base and glossy screen, but its viewing angle and screen uniformity are mediocre.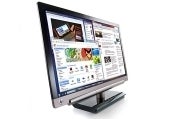 The glossy-screened HP x2301, with its dark gray bezel, aluminum trim, and green-tinted translucent base, is certainly out to make an impression. Unfortunately, this 23-inch monitor's performance isn't nearly as impressive as its design.
Unlike the significantly higher-priced HP ZR2440w, which came out on top in our recent roundup of 23- and 24-inch monitors, the $249 x2301 cuts a few corners when it comes to features. You can tilt it a few degrees forward or back, but you can't change its height, swivel it on its base, or pivot it into portrait mode. It does offer DVI, HDMI, and VGA inputs, however; the HDMI is a nice bonus for a budget display.
Our jury found the HP X2301's text legibility worthy of a Good rating (all nine recently reviewed displays achieved ratings of Good or higher on this measure). Regrettably, at its stock settings, the display was a bit dark, which made distinguishing between subtle shades of gray somewhat difficult.
We also noticed that colors tended to shift–and contrast to disappear–when we moved above or below, or left or right, from the center of the screen. If you often share your monitor while collaborating with colleagues, you might want to look for a display (such as the ZR2440w) that uses an IPS panel, which offers wider viewing angles.
Glossy screens like the one on this monitor have some benefits, the most important of which is that they make photographic images appear to have more depth. Glare, of course, can be an issue, so think about your work environment before committing to purchase a glossy screen.