At a Glance
Expert's Rating
Pros
Good all-around performance
Our Verdict
A wobbly stand and below-average motion detract from the otherwise good features and performance of the VA2448m-LED.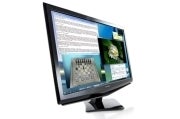 During our recent roundup of 23- and 24-inch monitors, the $209 ViewSonic VA2448m-LED performed decently in our screen-quality tests. However, it's not especially adjustable–and it has all the stability of a bobblehead doll.
Too much shiny, black plastic surrounds this 24-inch, 1920-by-1080-pixel display for our tastes, and the diamond-shaped stand offers little ability to customize the screen's position for more comfortable viewing. You can't pivot or swivel the screen, or adjust the height; all you can do is tilt it a few degrees forward or back. This monitor will sway with any movement of your desk, too: In our tests, even pushing the menu buttons at the right back edge of the display left the unit shaking for quite some time.
The VA2448m-LED received Very Good marks on our evaluations of text legibility and screen uniformity. Only in the mo­­tion test did this model fail to earn at least a Good rating. Our test video looked murky on the VA2448m-LED, and as a re­­sult our judging panel gave it just a Fair rating. In addition, I spotted a little light leaking from the edges of the monitor when I viewed a black image at full screen in low light, though the leakage wasn't noticeable under standard office lighting.
If not for its wobbly design, the ViewSonic VA2448m-LED could have been a contender as a budget choice. Check out the Asus VS247H-P for another low-cost alternative.