At a Glance
Expert's Rating
Pros
Low purchase price
Sharp text output
Cons
High toner cost
Manual duplexing only, and not for Macs
Our Verdict
This basic laser is suited for low-volume use, boasting a minimal purchase price and size–but also minimal features, and maximal toner costs.
The elegantly simple Samsung ML-2165W monochrome laser printer gives you laser-sharp text for only $150. It's also quite compact, measuring a mere 13 inches wide by 8.5 inches deep by 7 inches high, so it's suitable for small work areas. Extra features are scant, and toner is pricey at about 4 cents per page; but for low-volume, basic printing, it's worth a look.
Setting up the ML-2165W is simplicity itself. Plug in the power cord, attach the small swiveling output tray to the top of the unit, and press the WPS button (for Wi-Fi Protected Setup). That's all there is to it–assuming you have a WPS-capable router. If you don't, you'll have to attach the printer to your computer via USB to set up the Wi-Fi–or use it as a USB-attached unit.
Controls are minimal. The aforementioned WPS button also pulls duty as the Continue/Print button; and if you hold it down for 15 seconds, it summons a status report. Beyond that, you get only the printer and toner status lights, and the on/off button. The ML-2165W's printer driver, though equally basic, is also elegant and nicely organized. Samsung doesn't offer any layout options, but it does provide manual duplexing support on the PC side. Unfortunately, manual duplexing isn't available on the Mac. Considering that the ML-2165W's diminutive footprint makes it appropriate for dorm rooms–a Mac bastion–that's an unfortunate oversight. The Brother HL-2270DW costs the same amount and includes automatic duplexing.
The ML-2165W's paper-handling features are spartan, too, though adequate for its intended light-duty role. The paper input on the bottom holds 150 sheets, and the output tray above it holds 100 sheets.
The unit ships with a starter toner cartridge that will last for approximately 700 pages. After that, you must pay about $65 for a standard 1500-page replacement cartridge, which comes to an expensive 4.3 cents per page.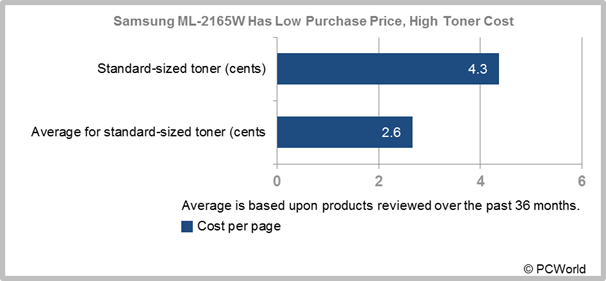 As we recently showed with inkjets, a cheap printer can be a good deal if you don't print much. The same reasoning applies to low-cost, low-volume lasers like the ML-2165W: Considering the low initial cost of the unit and the 700-page head start you get, the toner costs are bearable.
The ML-2165W's text output is excellent–sharp and black. Graphics on the other hand, while fine for the odd bar chart, company logo, or other simple element, are grainy even when you select 'Best' in the print dialog. Performance is slow, but more than adequate for a personal unit. Monochrome pages exit at 11.6 pages per minute on the PC and 12.8 ppm on the Mac. Graphics print at about 3.8 ppm. First pages arrive quickly–in about 10 seconds, which makes the unit very suitable for quick one-offs.
For low-volume personal printing, or as an adjunct to a color inkjet, the ML-2165W fits the bill. If you're a PC user, it could be a decent deal. It's regrettable, however, that Samsung forces Mac users to jump through hoops to get two-sided printing.