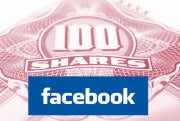 Facebook's initial public offering, or IPO, hits Wall Street Friday, and is one of the most highly anticipated tech stock offerings of the past decade. Everyone, it seems, wants to be in on the action. And it's possible to do so–after the big boys get their hands on it first.
Want to Own a Piece of Facebook?
You can grab a piece of Facebook from many places–a regular trading firm, a stock market savings plan, or a company that specializes in selling single shares of stock.
If you use services like E-Trade, AmeriTrade, or the like, buying Facebook shares is as simple as looking for the company's stock ticker–'FB'–and pressing Buy after the opening bell on Friday. But keep in mind that these brokers require the purchase of stock in what's called 'lots': That's bundles of 100 shares. You're subject to some hefty fees if you purchase less than that. Either way, this type of stock purchase will set you back a few thousand dollars.
One Share at a Time
If you can't afford that option, there are ways to buy small amounts of the stock. Try a site like Sharebuilder, which is already taking what is called a 'limit orders' on Facebook's stock. This means the service will purchase the stock–if it is available–below your specified price. This will prevent you from spending more that you want on a share and allow you to budget out the stock purchase. Each trade carries a $9.95 fee.
The nice thing about Sharebuilder is that you don't have to purchase 100 shares at a time: You can purchase just one share, if you'd like.
Alternatively, consider Sharebuilder's automatic investment option. Here you purchase a dollar amount (say, $200) rather than a number of shares. This is a cheaper option, but you can only control the date and not the time of the trade. Sharebuilder makes the trade when it wants, so you might not get the best price.
If you prefer a good old stock certificate as evidence of your ownership of a small piece of Facebook, a site like GiveAShare.com may be a good option. The company is offering to notify customers of the moment the stock becomes available through its service, which allows for the purchase of one share plus the certificate for a $39 fee. This does not include the price of the share itself, which is calculated at the time of the sale.
For an additional fee, you can get the certificate in a nice frame, but after the stock price, plus the fee, plus the cost of framing the certificate, the cost will swell.
Big Investors Go First
As an individual early buyer, don't expect to get a good price on the stock. The way the initial public offering system works, only banks and large investors have access. The rest of us are left to fend for ourselves in the aftermath, and will pay a premium on the price set for the IPO stock.
This makes participating in the opening days of trading very risky. "Investors will be crowding into Facebook the instant trading begins, potentially pushing prices far beyond what the company is reasonably currently worth," explains Stacy Johnson of Money Talks News.
Johnson expects the value of Facebook stock in the first several days to be far more than it's worth and that it may drop in value. In other words, if you buy at those high first-day prices, you may lose money.
That doesn't mean Johnson at some point won't buy Facebook if the price is right. "Facebook is a game-changing company, and a profitable one," he says. "I'll be buying at some point–but only if the price is reasonable relative to the profit potential. If that never happens, I'll never own it."
In other words, do your research, and watch from the sidelines for a few days before jumping into the fray.
A Word of Caution
As with any big event, there's always the opportunity for mischief. Anyone can print out an official-looking stock certificate or claim to sell you stock. Do your research and make sure that the stock-trading company is legitimate. For instance, the Financial Industry Regulatory Authority offers a database of stock brokers where you can research the companies you may be about to deal with.
For more tech news and commentary, follow Ed on Twitter at @edoswald, on Facebook, or on Google+.