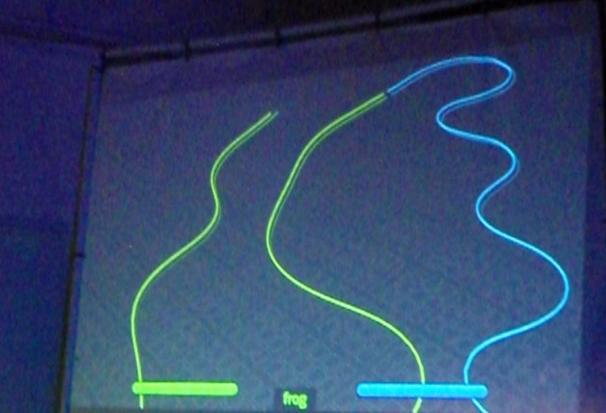 Have you ever wanted to play Tron and zoom around in the infamous Light Cycles? Well now you totally can! This year at Maker Faire, Frog Design–an engineering design firm–is showing off their awesome Tron Light Trikes (video below).
These Tron-themed cycles let you and an opponent battle it out one on one on a large screen for all to see. So how do you play? First, you and an opponent sit down at separate stationary bikes–each with their own personal display–and wait for the countdown. When it's time to do battle, you peddle to move forward and use the handlebars to steer. Your motions on the stationary bikes in the physical world (so boring) are transmuted to the virtual world (so not-boring) and are displayed on a large screen for others to see.
To win the game, you must trap your opponent and get them to run into your trail of light–just like in the movie. When you or your opponent crash, the crashing bike explodes into a spectacular volly of light.
Now I know that you're asking: "How can I play?" Unfortunately, the representative that I spoke with at the Frog Design booth told me that this is just a fun side project and that it is not available for purchase, nor is it likely to be a consumer product in the future. If you want to play, you'll just have to come on down to Maker Faire if you're in the Bay Area, or catch Frog Design at another expo.
(Sorry for the poor quality. The room was dark and I was using a simple point-and-shoot camera.)
Follow James Mulroy on Twitter and on StumbleUpon to get the latest in microbe, dinosaur, and death ray news.
Like this? You might also enjoy…
Get more GeekTech: Twitter – Facebook – RSS | Tip us off