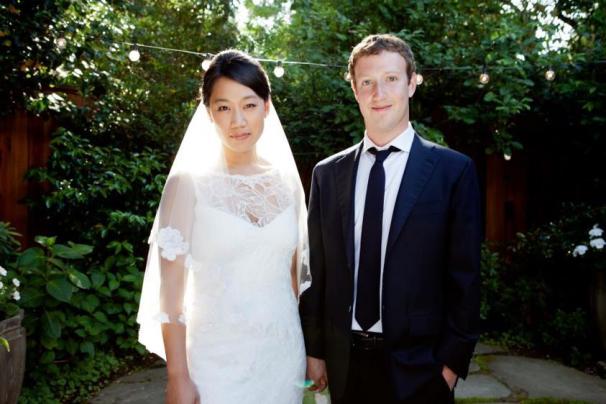 Facebook is all about sharing, but that doesn't mean its billionaire chief can't keep a secret, at least when it comes to his nuptials.
Guests that arrived at Mark Zuckerberg's Palo Alto, California, home Saturday, the day after his social network went public, thought they were attending a party to celebrate longtime girlfriend Priscilla Chan's medical school graduation party. Instead, the two got married.
According to The Associated Press, Zuckerberg and Chan tied the knot in the company of fewer than 100 guests, culminating a busy week for the couple.
On Monday, Zuckerberg turned 28 and Chan graduated from the University of California, San Francisco School of Medicine, where she studied pediatrics. On Friday, Facebook became a public company, minting Zuckerberg as a $20 billion man. Saturday, the couple held a surprise wedding and Zuckerberg updated his Facebook status to "married."
A wedding guest told the AP that the wedding had been planned for months, but the date of the IPO had been an unknown "moving target" when the couple set the wedding date.
If you haven't yet stopped by Zuckerberg's Facebook profile to verify his new status, you should. The Facebook chief — one of the world's most famous CEOs — shares some interesting personal details.
Were you aware, for example, that Zuckerberg is a vegetarian?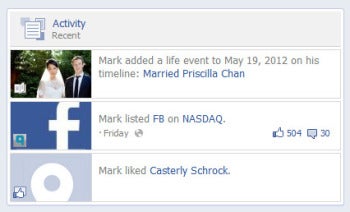 As for Chan, posers have created fake pages for Zuckerberg's new wife, although if you click on Zuckerberg's timeline event "Married Priscilla Chan," which has already been "liked" by more than 700,000 Facebook fans, you'll get to her public profile.
According to it, Zuckerberg's bride has eclectic tastes in books and music — everything from Kenney Chesney to Lady Gaga and "Harry Potter" to "Pride and Prejudice." She also likes cooking and is a fan of Tieks, a high-end ballet flat.
Speaking of fashion, Zuckerberg did not wear a hoodie to his wedding. He went the more traditional route with a dark jacket and tie.
[See more: Facebook IPO: Is Zuckerberg's Hoodie a Sign of Immaturity?]
Follow Christina on Twitter and Google+ for even more tech news and commentary and follow Today@PCWorld on Twitter, too.