There are many ways you can use Twitter to help build your business. For example, you can track trending topics, leverage Web analytics, and tap some 50 million daily users.
Of course, let's not ignore the basics. What if you're simply trying to wrangle multiple Twitter accounts? Do you really have to sign out from one and sign into another every time you want to tweet across them?
And what about keeping tabs on your brand across the Twitterverse? Surely there must be some simple way to do that.
I continue to rely on an oldie but goodie: Splitweet, a free service that helps you manage multiple Twitter accounts and monitor your brand.
Specifically, it lets you tweet to one or more accounts simultaneously; read, reply to, and share updates from users you follow; and track mentions of any "brand" names you want (e.g., your company name, a competitor's name, a product line, or whatever). That's crazy-handy.
After signing up for an account, click the Twitter accounts link to start adding them. For each one you'll need to complete the authorization process, a quick, one-time endeavor.
You can also click Brands and enter any names you might want to track.
Now head back to the Splitweet home page. To send a tweet, just type it in, click the checkbox next to the accounts you want to include, and then click Tweet it.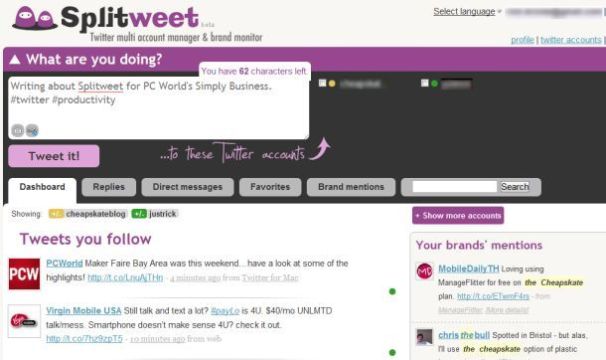 Below that, you'll see tweets from all your followers from all your Twitter accounts — though you can disable any you don't want to see. And alongside that, Splitweet shows all tweets that mention your selected brands.
And that's the service in a nutshell. It hasn't been updated in a while, and there may be better solutions out there (if you know of one, be sure to mention it in the comments), but I find it indispensable for managing my four Twitter accounts. Thus, I think it's a must-try for anyone leveraging Twitter for business purposes.