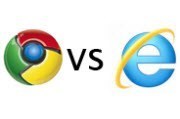 StatCounter has declared Google Chrome the king of all desktop browsers based on recent market share data, but observers should take this claim to the throne with a grain of salt.
As my colleague Danial Ionescu noted, rival measurement firm NetMarketShare comes up with wildly different browser share data for the first week of May. StatCounter's data shows 32.76 percent share for Chrome and 31.94 percent for IE, while NetMarketShare shows 54.01 percent share for IE and 18.85 percent for Chrome.
According to NetMarketShare, Chrome hasn't even overtaken Firefox yet, though StatCounter says Google achieved that milestone late last year.
How can two measurements be so different? The answer comes down to two major differences in methodology.
Views vs. Visits
Both firms base measurements on traffic data from a network of sites–40,000 sites for NetApplications and 3 million for StatCounter. NetApplications measures unique visits, so if you go the same Website twice, you'll still only be counted once per day for market share. StatCounter measures page views, so a user may be counted several times per day on the same Website.
Both methods have their merits. NetApplications says unique visitor tracking is less susceptible to fraud, while StatCounter told Neowin that unique visits are too difficult to measure with confidence. Still, there's no right answer here because the two firms are measuring entirely different things. A more active Web user will play a bigger role in StatCounter's figures, but whether active users should weigh more on market share is simply a matter of opinion.
Accounting for Location
StatCounter takes a hands-off approach to its data. Not only does it measure raw page views instead of unique visits, it also doesn't weigh results by location. NetApplications weighs its data against an Internet Traffic by Country table from the CIA, inflating market share for countries that are more active on the Web.
Again, both approaches have benefits and drawbacks. A country with lots of Internet users who don't visit StatCounter's network of sites could taint the measurements, but at least StatCounter is making real measurements. NetApplications relies on projections based on someone else's data.
But consider this: China barely shows up in StatCounter's measurements, as Microsoft cheerily pointed out in March. Internet Explorer is hugely popular in China, where piracy is rampant (Microsoft doesn't cheerily point this out), so the lack of weighting by StatCounter clearly drags down IE's market share. Even in the United States, StatCounter still shows a big lead for Internet Explorer, with 37 percent share compared to 23 percent for Chrome. That means other countries, who use the Internet less, are having a big impact on StatCounter's findings.
Nothing Really Matters
Ultimately, obsessing over desktop market share may not even be worthwhile anymore. Competition between IE, Firefox, Chrome, and others is alive and well, and that's really the most important thing.
As consumers, we'd do well to turn our attention to mobile browsers, where there's a lot of growth to come, and where Apple and Microsoft stifle competition by limiting the capabilities of third-party browsers. Not surprisingly, StatCounter and NetMarketShare show vastly different figures for mobile browsers as well, but that's a story for another day.
Follow Jared on Twitter, Facebook or Google+ for even more tech news and commentary.