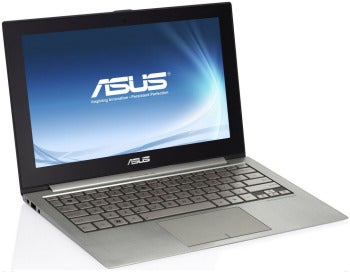 If you think people couldn't stop talking about Ultrabooks a few months ago, just wait until June. That's when Intel will make available the dual-core version of the Ivy Bridge CPUs, ushering in a whole new wave of slim laptops. One such Ultrabook will be the new Asus Zenbook Prime UX31A, successor to the Zenbook that launched with the first Ultrabooks at the end of last year. We liked that system a lot, save for a few issues. With the Zenbook Prime UX31A, Asus seeks to address some of those.
I got my hands on a pre-production system that is nearly up to the quality standards of the final shipping units, or so I'm told. It's really very nice. Much like the original Zenbook, it's all metal with a very solid and rigid feel. The 13.3-inch UX31A weighs a little less than 3 pounds, and has a very small and light power adaptor. The left side provides access to a USB 3.0 port, headset jack, and SD card slot. The right has the power plug, another USB 3.0 port, mini-VGA, and mini-HDMI. As with other exceptionally thin Ultrabooks, you'll have to use the included mini-to-VGA dongle to plug into a legacy display or projector. Asus supplies a USB-to-Ethernet adaptor for those needing wired connections, but the dual-band 802.11 a/b/g/n radio should provide good wireless throughput.
Input ergonomics have been improved a bit over the first Zenbook. The keyboard has a nicer typing feel to it, and is backlit multiple levels of brightness. The large clickpad is smooth and has a very good feel to it, but I found myself fumbling around with a jumping cursor a little too often. The palm-rejection software needs some work, and for the life of me, I couldn't figure out how to tweak the pressure sensitivity down a notch or two. I really hope clickpad problems are ironed out by the time the final unit ships, because it's easily my least favorite part of using this laptop.
Bluetooth 4.0 is supported, as it was in the first Zenbook, but the audio has been improved with a Bang & Olufsen system. No, you still won't get big sound out of a laptop this thin, but music and YouTube videos sounded a lot better than you'd expect. The webcam has been upgraded to 720p HD with a CMOS sensor, and worked pretty well with modest indoor lighting. The 6Gbps SATA SSD drive seems very fast, but that was true of the original Zenbook. Asus is promising up to 2 weeks of sleep mode and several months of battery life in hibernate mode. I haven't had time to test running battery life just yet—the Ivy Bridge processor should be more efficient than the Sandy Bridge processor in the original Zenbook, but the new display may use more juice.
Oh, I didn't mention the gorgeous new display? That's the real major upgrade, here. Both the 13.3 and 11-inch versions of the Zenbook Prime will come with options for a full HD (1920 by 1080) display that uses IPS technology. It produces a bright and clear image at all viewing angles, and has terrific color. This is exactly the kind of upgrade Ultrabooks need. I was worried that text would be a little too small, and perhaps on the 11-inch model it would be, but it really isn't unreadable at all.
I'm not sure if the Zenbook Prime is the best of the new wave of Ultrabooks, but it's definitely one to watch for. It's got great build quality, a few small but noticeable upgrades in the keyboard and audio, and a display that is definitely superior to any of the Ultrabooks I've seen so far. The 13.3-inch version of the Zenbook Prime with a 128GB SSD is estimated to cost around $1099 when it goes on sale next month, and that price includes the full HD IPS display. You can tack on another $400 for a 256GB SSD and more powerful processor, and all configurations include 4GB of RAM. Pricing on the 11-inch model has not yet been determined.