At a Glance
Expert's Rating
Pros
Fast for its class
Nice text output
Cons
Pricey black ink
No manual duplexing support for the Mac
Our Verdict
This is a good basic multifunction printer for PC users, but the black ink is pricey and there's no duplexing support for the Mac.
If your printing and scanning needs are light, the $100 Canon Pixma MX432 color inkjet multifunction printer will likely fill your needs. Though the unit lacks an automatic duplexer, it provides a single-sided automatic document feeder, and the price is certainly attractive. On the other hand, black ink costs are quite high and Canon omits no manual duplexing support for OS X. So if you use a lot of black ink or will be printing from a Mac, you should look elsewhere.
Setting up the Pixma MX432 is easy, though if your Wi-Fi router doesn't support Wi-Fi Protected Setup you'll have to use a USB cable (which, of course, is an option even if you do have a WPS-capable router).
The Pixma MX432's control panel is plain but competent. Its two-line monochrome LCD makes complex actions such as scanning to a PC a bit tedious, but the MFP's simple keypad and basic controls are easy to use. The USB/PictBridge port on the front of the unit works for camera connection and also for scanning to USB media, but you can't print from USB media.
The Pixma MX432's paper-handling features, aside from the 30-sheet ADF, are Canon's current low-volume setup. A 100-sheet input tray occupies the bottom of the unit, and paper exits directly above it, half-landing on the outer part of the input tray. It's a perfectly viable arrangement, though a bit disconcerting on first encounter. The only time this design might pose a special problem is when you have to feed more paper while printing a long document. The lid of the Pixma MX432's A4/letter-size scanner telescopes to accommodate thicker materials.
Canon bundles a nice array of software with the Pixma MX432. The Solution Menu EX allows access to common scan chores including OCR, as well as printer maintenance and relevant online destinations. The printer driver is full-featured, at least on the PC. While Canon bundles the same software on the Mac, for some reason, manual duplexing support is missing from the OS X driver.
Output from the Pixma MX432 is very good. Color graphics have the usual Canon orange cast, which works quite well on many subjects, giving them a warm feel. The effect on human faces, however, can be unrealistic–especially on plain paper, but also slightly on glossy stock. Text is as good as on any inkjet printer–sharp and black, though with the edges of letters a tad soft. Grayscale graphics have a slightly purple tinge.
The Pixma MX432's performance is good for a $100 multifunction printer. Monochrome pages print at 6.5 pages per minute from the PC, and 6.7 ppm from the Mac. Snapshot photos print at 2.6 ppm on plain paper, and 0.6 ppm on glossy photo stock. A full-page photo takes about three minutes. Copies are fast, even when matched against output from higher-priced inkjet MFPs, at about 6.2 ppm.
The Pixma MX432 ships with 180-page starter cartridges. The replacement 240 black ink is very expensive, while the 241 color cartridge is reasonably affordable. The PG-240XL black cartridge costs $21 and lasts for 300 pages–that's 7 cents per page. The larger, 600-page PG-240XXL (priced at $38), at 6.3 cents per page, isn't much cheaper. In contrast, the $30 unified-color (three colors in a single cartridge) CL-241XL lasts for 400 pages, which works out to 7.5 cents per page. Factoring in the XXL black, you get affordable 13.8 cent four-color pages–maybe. Since you must replace the cartridge when one color runs out, if you use colors unevenly, the price per page will rise due to unusable ink left over when you empty the compartment for the most heavily used color.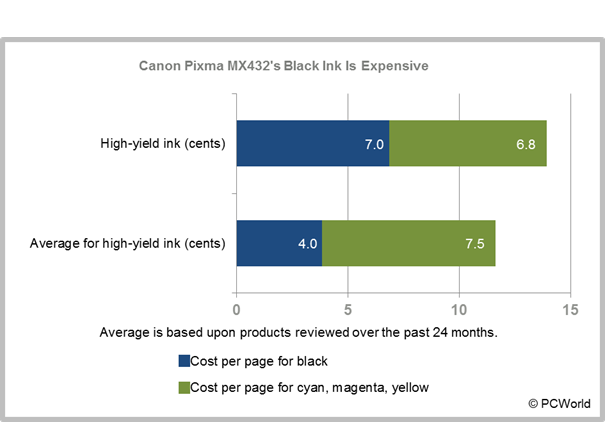 The Pixma MX432 is a decent, inexpensive MFP for light use. Costs for four-color pages are on par with its peers, and I find the lower-tech controls easier to use than the company's fancier efforts on its more expensive products. That said, the Pixma MX432 faces stiff competition from the likes of the Kodak Hero 3.1 (slow, but with cheap ink and spectacular photos), and the stylish though slightly pricier HP Photosmart 5520.