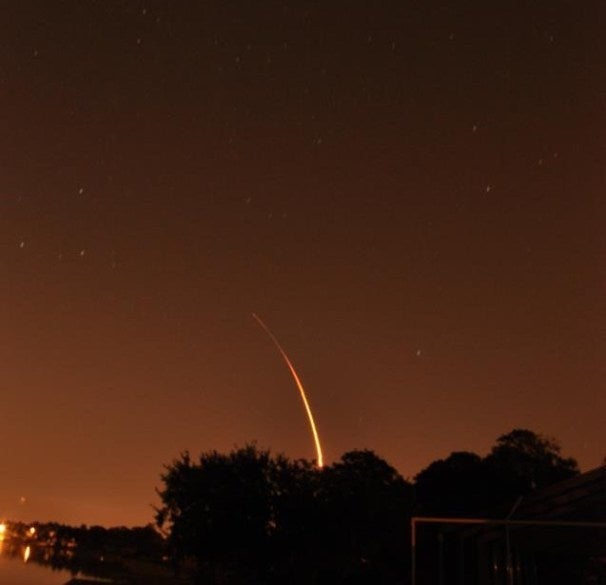 On Tuesday morning, SpaceX successfully launched the Falcon 9 rocket, shooting the Dragon capsule into orbit. This launch mission is part of NASA's COTS program, where the agency will work with private companies to send cargo to the International Space Station (ISS), as well as help advance the private spaceflight industry.
On May 19, the Falcon 9 flight computers aborted the launch of the 2nd COTS mission at the last moment after detecting higher than normal pressure the combustion chamber of engine 5. According to SpaceX, the problem was caused by a faulty check valve–a valve that only allows a material to flow in one direction–on the Falcon 9's Merlin engine.
Although the abort was unfortunate, it's better to be safe than sorry. SpaceX fixed up the problem and rescheduled the flight for this morning at 12:44am PDT, or 3:44am EDT.
At 44 minutes (T-0) after the hour, the Falcon 9's engines lit up with a brilliant flame and the Falcon 9 lifted off the pad. About three minutes after launch, the main engine terminated its burn and the first stage of the Falcon 9 dropped off, followed shortly after by the ignition of the second stage. Six minutes later, the Dragon capsule entered orbit and deployed its solar array system.
So what's next? Over the next couple days, the Dragon capsule will move closer and closer to the ISS and along the way the Dragon's sensors and systems will perform a number of tests to make sure that everything is working properly. If it is, then the Dragon will atttempt to dock with the ISS, where astronauts abord the station will load and unload cargo. The Dragon will then return to Earth.
If this mission is successful, SpaceX will begin fullfilling orders for NASA for cargo trips to the ISS.
Make sure to check out NASA, SpaceX, and the video below for the full scoop.
Correction: As originally posted, this article contained the wrong video and link to the Falcon 9 launch. Although it was a Falcon 9 launch, it was not the May 22 Falcon 9 launch. We apologize for any confusion. The article has been updated with the correct video and link.
[SpaceX, NASA / Video: NASA Kennedy Space Center (YouTube)]
Follow James Mulroy on Twitter and on StumbleUpon to get the latest in microbe, dinosaur, and death ray news.
Like this? You might also enjoy…
Get more GeekTech: Twitter – Facebook – RSS | Tip us off