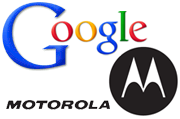 Google has officially closed its acquisition of Motorola Mobility for $12.5 billion, putting the search giant in charge of a major smartphone, tablet and set-top box maker.
"Motorola is a great American tech company that has driven the mobile revolution, with a track record of over 80 years of innovation, including the creation of the first cellphone," Google CEO Larry Page said in a statement. "… And as a company who made a big, early bet on Android, Motorola has become an incredibly valuable partner to Google."
By buying Motorola, Google gets to beef up its patent portfolio, as rivals Apple and Microsoft try to drag down Android device makers with lawsuits. Motorola has its own ongoing patent lawsuits against Microsoft and Apple, which may help Google get more favorable settlements for Android device makers.
But for consumers, the possibility of more pure Google devices is far more interesting. "Google and Motorola Mobility together will accelerate innovation and choice in mobile computing," Google says of the acquisition. "Consumers will get better phones at lower prices."
Google says it will still allow early access to Android for other hardware makers, and will even work with them on future Nexus devices. Android will also remain open. Still, Motorola could play a bigger role in Google's push toward unlocked-contract free phones and tablets.
Google plans to sell a batch of Nexus devices directly to consumers this fall, the Wall Street Journal reported last week. Motorola, meanwhile, hasn't announced any new high-end phones or tablets in months. It seems likely that Motorola is behind some of those upcoming Nexus devices.
Motorola Mobility also creates set-top box hardware for television providers, so Google could use its new acquisition to push Google TV. Page didn't say anything about TV in his blog post, but there are rumors that Google is working on home entertainment devices, including a streaming audio device, possibly using Motorola's resources.
Sanjay Jha, who served as Motorola Mobility's CEO since the company spun off from Motorola in 2008, has stepped down. He has been replaced by Dennis Woodside, a former senior vice president of Google Americas, who led Motorola's integration with the search giant.
Follow Jared on Twitter, Facebook or Google+ for even more tech news and commentary.