The Asus Zenbook Prime Ultrabooks have knockout, full-HD IPS displays and other notable upgrades from the Zenbooks that launched last year. But how do these premium Ultrabooks stack up against the growing competition? Here's a quick look.
Gorgeous Display
Let's get straight to it: The new Zenbook Prime Ultrabooks have the best displays of any Ultrabooks introduced so far. The Zenbook Prime 11-inch UX21A and 13-inch UX31A and UX32VD all offer optional full HD 1080p (1920 x 1080 pixel) displays. This is a big update from the last year's screen resolutions — 1366 by 768 pixels on the 11-inch UX21, and 1600 by 900 pixels on the 13-inch UX31. More pixels means you'll see sharper text and images, and you won't have to scroll as often.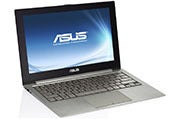 Most Ultrabooks today only offer 1366 by 768 pixel resolution displays. Resolution-wise, the Zenbook Prime's closest Ultrabook competitors are the Gigabyte U2442 series, Lenovo Thinkpad X1 Carbon and Samsung Series 9 (2012 model), all of which have 1600 by 900 pixel resolution on their 13.3- to 15.6-inch screens.
None of the other Ultrabooks use the IPS (In-Plane Switching) technology offered on the Zenbook Prime full HD displays. Screens with IPS have brilliant color and better viewing angles.
In his hands-on with the Zenbook Prime UX31A, PCWorld editor Jason Cross notes the laptop's superior display compared to other Ultrabooks, and assures us the text isn't too small on the high-resolution screen.
(Skip to the bottom for quick view chart)
Ivy Bridge Processors
The Zenbook Prime Ultrabooks will debut next month with third-generation Intel Ivy Bridge processors. This gives the Asus Ultrabooks a leg up on the first wave of Ultrabooks, including the Dell XPS 13 and Samsung Series 9, which have yet to announce Ivy Bridge updates.
However, there's little doubt that, once Ivy Bridge arrives in June for all Ultrabooks, PC makers will refresh their laptops' processors — so the Zenbooks' Ivy Bridge refresh isn't that important unless you're buying a new laptop in the next month. HP, Sony, and Lenovo have already announced that their latest Ultrabooks will use Ivy Bridge processors.
Graphics Card Options
Like most Ultrabooks, the Asus Zenbook Prime laptops use integrated Intel graphics: specifically, the Intel HD 4000. A few Ultrabooks, especially early ones like the Acer Aspire S3, use older Intel HD 3000 graphics.
One Zenbook Prime model, the UX32VD, comes with an optional Nvidia GeForce graphics card. This discrete graphics option might put the Zenbook Prime ahead of the rest if you're a gamer or you need excellent graphics performance for another reason. There are few other Ultrabooks with discrete graphics options, including the 14-inch Gigabyte U2442 series and large 15-inch Acer Ultra M3 (which really pushes the Ultrabook form factor with its 5-pound weight).
However, HP offers an Ultrabook alternative, the 15.6-inch HP Sleekbook, with an AMD Trinity APU that performs much better on graphics benchmarks than Intel's Ivy Bridge with integrated graphics. And the Sleekbook does all that at nearly half the cost of the Zenbook Prime UX21A or UX31A.
Price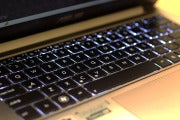 The Zenbook Prime Ultrabooks are priced at a little over $1,000–even with the full HD IPS display options, which makes the competitively priced against other Ultrabooks and the MacBook Air.
The exception is HP's aggressively-priced new Sleekbook, and its stylish line of Ultrabooks. The Sleekbook starts at just $599.99, while HP's 14-inch Envy Ultrabook starts at $749.99.
The exception is HP's very aggressively priced new line of Ultrabooks and the Sleekbook, starting at $599.99 for the Sleekbook and $749.99 for the 14-inch HP Envy Ultrabook.
Don't get me wrong — the Zenbook Prime updates are great, and include a brilliant display, backlit keyboard, and improved audio, making the Prime a top Ultrabook contender. That said, we expect a slew of other Ultrabooks on the way, so get ready for a difficult decision if you're on the market for an ultra-light, wafer-thin laptop.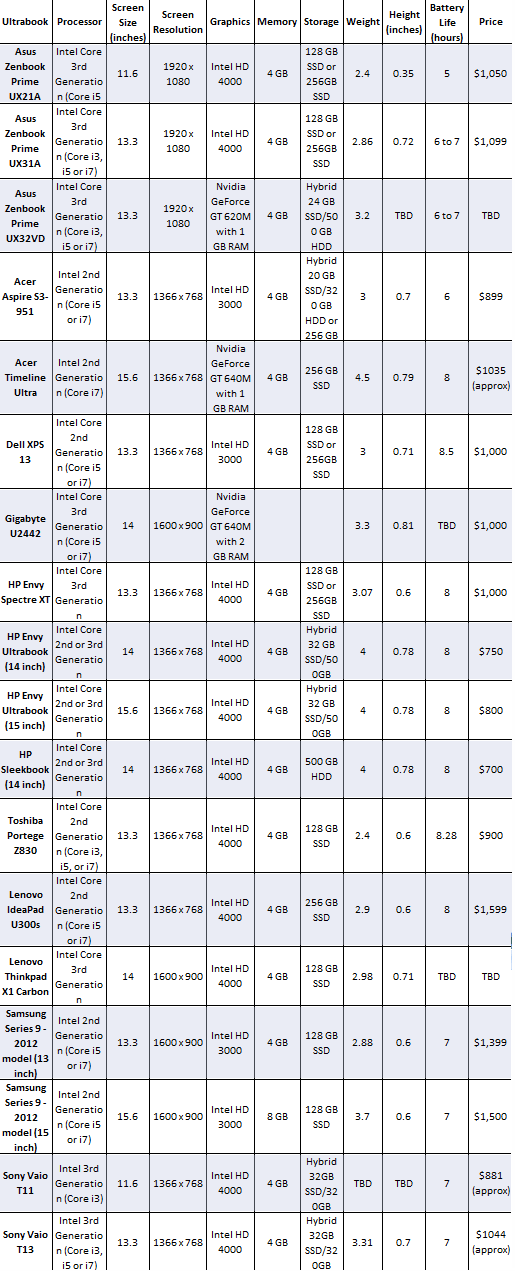 Follow Melanie Pinola (@melaniepinola) and Today@PCWorld on Twitter