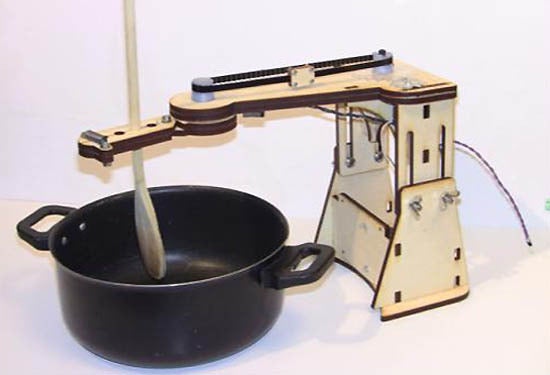 If you're anything like me, everything around you can distract you from cooking–something I'm not particulalrly good at. While something is simmering, you may float away to do something on your computer, only to come back later and find you've ruined the food. If you have an Android phone or tablet though, Ben Heck's latest hack gives you an assistant to help save your meal.
This hack focuses on an app, which uses Bluetooth to control a pot-stirring gadget. The laser-cut wooden hardware consists of an actutor arm, chip clip (for gripping the spoon) and trapezoid timing belt. Servomotors allow the cooking assistant to rotate the spoon to and fro in the pot. The height and spoon positioning can be adjusted too, depending on pot size. An Arduino Uno helps keep the stirrer moving once the app connects.
The Android app is made using the Google ADK. It lets you see how hot your food is and control the speed and direction of the spoon–this means once you're set up, all you need to do is control the arm with a slider on the app. The Bluetooth from the phone or tablet sends the Arduino commands to keep your food moving in a specific way.
This is a pretty handy app and gadget to have around if you like to keep busy rather than watch your pots. Of course, this app could be even cooler if it had the option to continue stirring without needing the slider control, but the arm of the gadget would probably make this tricky to impliment. If it makes food delicious while you continue to sit on the couch though, it's already a dream app!
Like this? You might also enjoy…
Get more GeekTech: Twitter – Facebook – RSS | Tip us off | Follow Elizabeth Fish