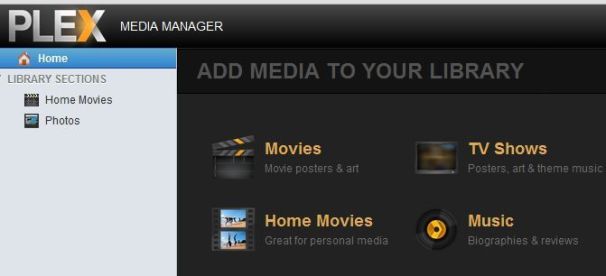 To borrow from Woody Allen, love is too weak a word to describe how I feel about my Roku box. I lurve it.
The tiny set-top delivers everything I could possibly want to my TV: Amazon (both Prime and Instant), Netflix, Hulu, HBO, and Pandora.
Well, okay, not quite everything — the Roku can't stream my personal library of music, photos, and videos. Not without a little help, anyway.
Plex is a free solution for streaming media from a PC to a Roku box. It works like a charm, though it can be tricky to set up. Here's how to get started:
1. Add the Plex channel to your Roku.
2. Download and install the Plex Media Server utility for Windows. This is the software that'll link your media library to your box.
3. Right-click the Plex Media Server icon in your System Tray, then choose Media Manager. That should open a new tab in your browser, which is where you'll set up the media you want to share with your Roku. It may take a minute or two before any options appear, so be patient.
4. Eventually you'll see five options for adding media to your library. The process is the same for all, so click one (say, Photos), then click Add and navigate to the folder containing the photos you want to add. Click Add again if you want to include additional folders.
5. When you've finished making your selections, click Add Section. Again, it may take a minute or two for your media to appear in the browser tab.
6. Now head to your TV, fire up the Roku, and choose the Plex channel. You should see your selected media channels, which you can now browse and view as you like.
If you have trouble navigating your media owning to filename confusion, check out Plex's Naming Guide, which is a bit confusing but can ultimately be of some help.
Also, if you have trouble with pixelation, grab the latest version of Plex Media Server directly from Plex.
Contributing Editor Rick Broida writes about business and consumer technology. Ask for help with your PC hassles at hasslefree@pcworld.com, or try the treasure trove of helpful folks in the PC World Community Forums. Sign up to have the Hassle-Free PC newsletter e-mailed to you each week.