Diablo III has become the fastest-selling PC game of all time, with more than 4.7 million players clicking the demons away on launch day.
Blizzard sold 3.5 million copies of Diablo III in the first 24 hours, the publisher announced, and another 1.2 million players received the game for free as part of a World of Warcraft Annual Pass promotion. One week after launch, more than 6.3 million players had joined the fray–not counting players in Korean Internet game rooms, where Diablo III also achieved a record share of play time.
There are, of course, a couple of obvious reasons why Diablo III was such a hit: It had a lot of hype surrounding it, and a lot of anticipation, coming 12 years after its predecessor. But allow me to suggest a few other, less obvious reasons for Diablo III's sudden success:
Instant Availability
Diablo III's record sales are a testament to the power of digital distribution. Before launch, players could pay for the game, download the files and install all the necessary patches. Anyone who got swept up in the hype could plunk down their money without getting up from their desks and know that the game would be ready to play on launch day. This wasn't just a pre-order, it was a pre-launch. Console makers would be wise to include similar mechanisms in their next generation of hardware. (And yes, the launch itself was a mess. Blizzard says it's sorry about that.)
PC Gaming's High Season
Last November, after a quarter of huge growth for Nvidia graphics cards, CEO Jen-Hsun Huang explained that PC gaming is cyclical. It becomes more attractive as home game consoles get older, because they can't keep up with the processing power of a new PC. Right now is prime time for PC gaming, and Diablo III capitalized on this.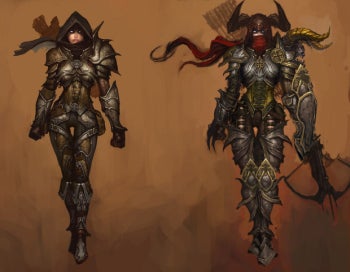 Changing Tastes
Though I can't back this up with statistics, I suspect that the changing tastes of gamers has made Diablo more alluring over the years. RPGs have always enjoyed a devoted audience, but through console hits like Mass Effect, Borderlands, Fallout 3 and Skyrim, the idea of building a character and customizing him or her with new skills and weapons has become a mainstream concept for video games. Diablo's cycling of killing bad guys, collecting loot and leveling up is now a recipe for AAA hits, so more gamers may be receptive to the series than they were 12 years ago. At least that's why I dove in, despite having never played a Diablo game before.
Follow Jared on Twitter, Facebook or Google+ for even more tech news and commentary.