Yahoo beefed up its search offerings on Wednesday when it launched Axis, an HTML5-based browser app that delivers search results as page previews rather than as links.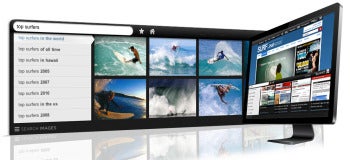 Axis shortens the time it takes a user to get from an initial query to the desired result, whether it's finding a fact or making a reservation, by about a third, according to Ethan Batraski, Yahoo's director of product management for special projects.
Batraski explained that most search interfaces require a three-step process — query, results page and the selected result — which Axis has tried to reduce to just two.
"That's an archaic experience. It's been the same for 12 to 15 years. We decided to get rid of the middle step, because nobody really likes the middleman," Batraski said.
Double Duty
The app is a browser as well as a search engine, with browsing functions including navigational arrows, an address bar and bookmarking. A search query in Axis returns a set of visual page previews, rather than links with text summaries. Any structured content results, such as showtimes or sports scores, that would appear in a conventional Yahoo search also appear in Axis. Search results appear across the top of the screen, and the user can swipe left to display lower-ranking results without reloading.
Even after a user selects a given result, by swiping downward, he or she can call the search results back up across the top of the screen without leaving the selected Web page.
Users who log in with a Yahoo, Google or Facebook ID can save searches across their various devices. Axis also comes as a plug-in for most browsers so users can also run it on the desktop. A menu option allows for sharing through email, Pinterest or Twitter. Yahoo will roll out Facebook sharing in the future, Batraski said.
Page previews could pose challenges of their own on the small screen of a smartphone. But Batraski indicated that the visual results mean fewer "back and forth" trips between the results listing and specific pages. When Batraski searched for "Adirondack chair plans," for example, he could quickly see which pages included actual plans.
"I never have to look at a title-abstract URL again. I can see what's behind it," he said.
Powered by Cocktails
Axis' search functionality is built with HTML5 and runs off Yahoo's "Cocktails" platform, which blends elements of Javascript, SQL (structured query language) and HTML5.
Cocktail provides "intelligent caching," which is what allows Axis to serve up so many images without significant delay, Batraski said.
Yahoo entered into a search partnership with Microsoft in 2010 in which it outsourced the back end of its search system to Microsoft. Yahoo has continued to work on the front end of the search experience, although it has struggled to retain its 14 percent market share, according to comScore data. Axis will tweak the search algorithm based on which results prove most useful for its users.
Axis is debuting with keyword and image searches only. Search results do not yet include advertisements. The app is currently available for iPhone and iPad. An Android app will launch "soon," Batraski said.
Cameron Scott covers search, web services and privacy for The IDG News Service. Follow Cameron on Twitter at CScott_IDG.