The touch-centric Metro version of Internet Explorer 10 in Windows 8 is plug-in free, but the browser may still be able to run Adobe Flash video, according to an online report. Microsoft is reportedly taking the Google Chrome approach with IE10 and building Flash capability directly into the touch-friendly browser. But Flash won't be available for every site on the Web in Metro IE10. Instead, Microsoft will only extend the capability to select popular sites, according to Windows bloggers Paul Thurrott and Rafael Rivera.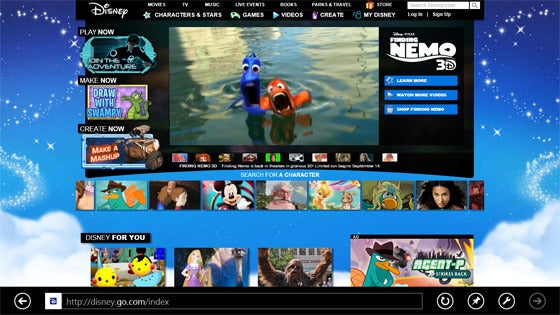 The new capability could appear in the Windows 8 Release Preview set to debut in early June. Purported screenshots of the release preview (registration required) appeared in an online forum showing Adobe Flash player built-in to the system.
Microsoft in September said that the touch-friendly version of IE10 would be as "HTML5-only as possible, and plug-in free." While the software giant didn't explicitly say Flash wouldn't run in Metro IE10, the company suggested that would be the case.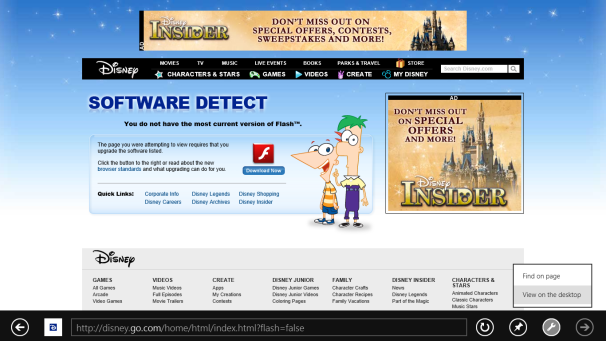 "Many of the 62% of these sites that currently use Adobe Flash already fall back to HTML5 video in the absence of plug-in support," Microsoft's IE team leader Dean Hachamovitch said. The company went on to say that sites requiring plug-ins such as Active X controls would still run on the desktop version of IE. To make switching between IE versions easier, Metro IE10 has a built-in "View on the desktop" option.
Apparently, Microsoft decided that a quick switch button wasn't good enough for watching Flash video and decided to incorporate Flash into Metro IE10. But at least Microsoft is reportedly doing this on its own terms. By building Flash right into the browser, Microsoft removes the pain of having to update plug-ins for Metro users as well as having more control over any security concerns Adobe's technology may have.
When Microsoft first announced it would make Metro IE10 a plug-in free experience, Adobe released a blog post saying it expected Windows 8 to "support Flash just fine, including rich web-based games and premium videos that require Flash."
Connect with Ian Paul (@ianpaul) on Twitter and Google+, and with Today@PCWorld on Twitter for the latest tech news and analysis.