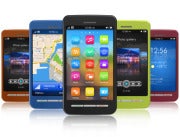 What a difference a year makes in the booming smartphone market.
A year ago, the world's leading smartphone operating systems, Android and iOS, owned a little over half the market. Now they own more than 80 percent of it.
Of the 152.3 million smartphones shipped in the calendar quarter ending in March, 59 percent had Android on them and 23 percent ran Apple iOS, according to a report released Thursday by International Data Corporation (IDC). That's nearly a 30 percent jump from the pair's 54.4 percent share of shipments during the same period in 2011.
The remainder of the market was left to Symbian (6.8 percent), RIM Blackberry (6.4 percent), Linux (2.3 percent) and Windows 7/Mobile (2.2 percent).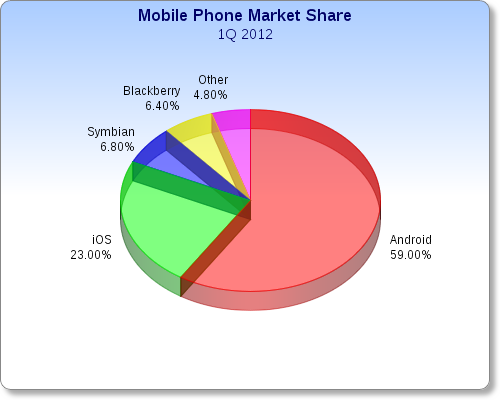 "The popularity of Android and iOS stems from a combination of factors that the competition has struggled to keep up with," Ramon Llamas, senior research analyst with IDC's Mobile Phone Technology and Trends program, said in a statement. "Neither Android nor iOS were the first to market with some of these features, but the way they made the smartphone experience intuitive and seamless has quickly earned a massive following," he added.
In addition, both platforms have been able to build robust developer communities, added Kevin Restivo, a senior research analyst with IDC's Worldwide Mobile Phone Tracker program. "In order for operating system challengers to gain share, their creators and hardware partners need to secure developer loyalty," he observed.
"This is true because developer intentions or enthusiasm for a particular operating system is typically a leading indicator of hardware sales success," he added.
During the period, Android shipments showed the greatest growth, to 89.9 million units from 36.7 million in 2011, a 145 percent increase. Almost half those shipments (45.4 percent) were smartphones made by Samsung.
Apple iPhone shipments climbed 88.7 percent during the quarter, to 35.1 million from 18.6 million in 2011.
Android and iOS gains during the period were largely at the expense of Symbian and Blackberry smartphones. Symbian's shipments dropped 60.6 percent and Blackberry's slipped 29.7 percent.
While Microsoft's share of the market remains small, shipments of smartphones based on its operating systems climbed 33 percent, to 3.3 million from 2.6 million in 2011.
"Windows Mobile/Windows Phone has yet to make significant inroads in the worldwide smartphone market, but 2012 should be considered a ramp-up year for Nokia and Microsoft to boost volumes," IDC noted.
"Until Nokia speeds the cadence of its smartphone releases or more vendors launch their own Windows Phone-powered smartphones, IDC anticipates slow growth for the operating system," it said.
Follow freelance technology writer John P. Mello Jr. and Today@PCWorld on Twitter.