Bump for iOS and Android makes it easy to move photos from handsets to PCs with a new Web-based tool that transfers smartphone photos to your desktop with just one tap of your spacebar. The new tool doesn't rely on a shared network or Bluetooth to transfer files. Instead, Bump uses geolocation capabilities on your phone and your PC browser to send photos to the cloud and then download them to your desktop. This is similar to how Bump's smartphone app transfers contacts and photos between mobile devices.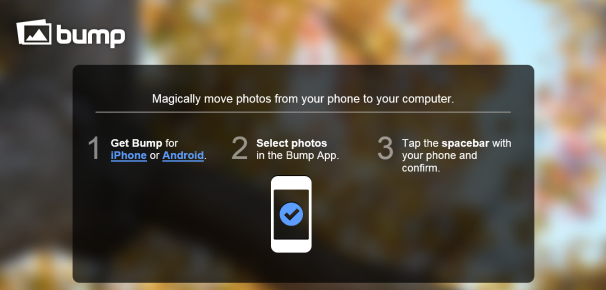 To get started make sure you have the latest version of Bump installed on your phone and then go to https://bu.mp using any modern Web browser. Your browser should ask to use your location and you'll need to approve the functionality for this to work.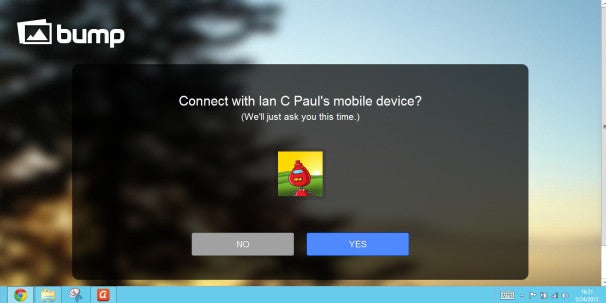 Next, choose the photos on your phone that you want to send to your PC and then Bump your phone with your PC's spacebar. You will then be asked to approve a connection on the Bump app on your phone and the Web app on your PC.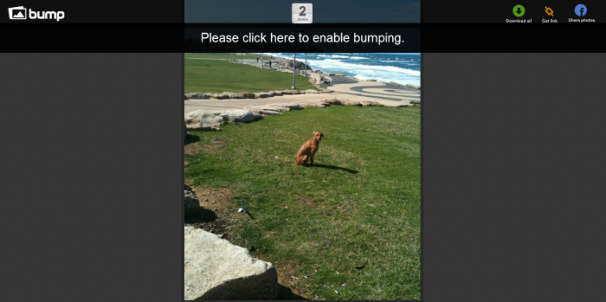 A few minutes later, depending on your Internet connection, your photos will appear in your PC browser. From there you can drag them onto your desktop or a folder, hit the "Download all" button to grab all the photos at once, share the photo collection online with a link, or share the collection to Facebook.
Keep in mind that the share options provide a link to your entire photo collection on the Bump site, not individual photos. As you might expect, when you share a photo to Facebook, it only shares a link that allows your friends to view the photos on Bump's site and not inside Facebook. Anyone you share the link with also has the option to download all the photos to their device.
Will You Use It?
Bump's approach to photo transfer is a novel and fun way to move data, but I wonder how necessary this manual photo tool is in 2012. Anyone using iOS 5 can rely on iCloud to automatically transfer photos from their iPhone to other iOS devices, Macs and Windows PCs. Android and iOS users can also upload their photos behind the scenes with the Google+ app. Other services including Canonical's Ubuntu One app and Dropbox for Android can automatically store photos to the cloud and sync them to your PC.
Nevertheless, for a fun approach to transferring photos, give the new Bump feature a try.
Connect with Ian Paul (@ianpaul) on Twitter and Google+, and with Today@PCWorld on Twitter for the latest tech news and analysis.