RisheekRajolu asked the Windows forum how best to make Windows 7 to go to sleep, and to hibernate, at the appropriate times.
Microsoft designed Windows 7's power management with an eye towards ease of use. Such an approach often sacrifices versatility for simplicity. Luckily, stronger power options are there if you know where to look.
But first, let me explain the difference between sleep and hibernation. When a PC enters sleep mode, it saves electricity by shutting down most of its components. But it uses some power to keep Windows, running programs, and data in RAM, allowing it to wake up almost instantly. When a PC hibernates, it copies everything in RAM to the hard drive, than shuts down the hardware completely. It takes longer to wake up, but while it's down it saves even more power.
Another hibernation advantage: Unplug a sleeping desktop, and you'll crash Windows. Unplug a hibernating one, and you can plug it back in, reboot, and be back where you left it.
So, then, how do you change these settings?
To begin, click Start, type the word power, and select Power Options under Control Panel.
In the resulting window, go to the left pane and click Change when the computer sleeps.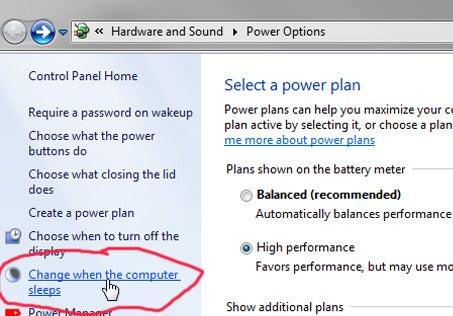 The resulting page offers options for turning off the display and putting it to sleep. If you have a laptop, you'll get separate "On battery" and "Plugged in" settings.
But you won't find options here for hibernation. For these, click Change advanced power settings near the bottom of the window.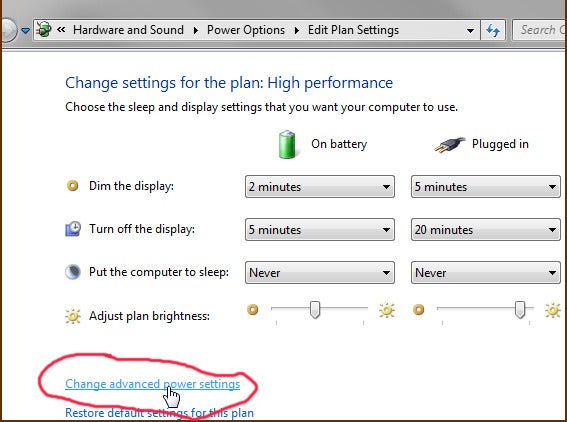 This brings up a less friendly but more powerful dialog box. Once there, expand the Sleep section.
Here's you'll find options for when the PC goes to sleep and when it hibernates–based on how many minutes have gone by since the last time you used that PC. The word never will keep the PC awake.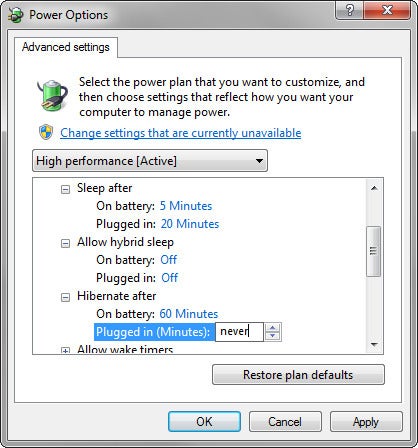 In between these options, you'll find another one called "hybrid sleep." No minutes here; your only options are On or Off.
Hybrid sleep puts Windows to sleep and hibernates it at the same time. As with regular sleep, it keeps the RAM powered so that Windows can wake up immediately. But like hibernation, it copies the contents of RAM to the hard drive, so that losing power doesn't crash Windows.
One problem with hybrid sleep: With this enabled, you can't manually hibernate the computer–the option will disappear from the Start menu. But you can still set Windows to hibernate after x minutes of inactivity, as described above.
Read the original forum discussion.
Contributing Editor Lincoln Spector writes about technology and cinema. Email your tech questions to him at answer@pcworld.com, or post them to a community of helpful folks on the PCW Answer Line forum. Follow Lincoln on Twitter, or subscribe to the Answer Line newsletter, e-mailed weekly.