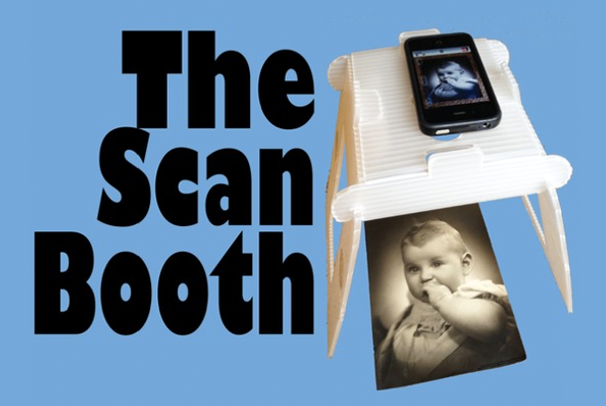 I almost never need to scan documents, but when I need to I always freak out and just end up taking a picture of the paper with my phone, since I don't actually have a scanner. I can usually pull off a single piece of paper, but it takes me a couple tries to get it square on at the right height.
I imagine Jean-Pierre Shahom had exactly the same problems, except with huge stacks of paper. Regardless, he wants to make it easier to scan documents with your phone with his ScanBooth idea, and he's using Kickstarter to, well, kick-start it.
ScanBooth is a single piece of plastic that folds into a stand for your camera phone facing downwards. You can put whatever you want under it–documents, pictures, small objects, rad Mario stop motion action, and so on. The stand is sturdy, easily capable of holding up a 4-pound laptop, and made of 100% recyclable plastic. Not only that, but it's light, thin, easy to ship pack.
You've got to pledge a minimum of $25 just to get one, though, which sounds like a bit much to me for what you get. I can understand if there are initial startup costs, and later full production units being less expensive, but none of this is covered on the Kickstarter page.
It is an awesome idea, I must say, but I'm tempted to just try to replicate it on a piece of corrugated cardboard. Granted, it will almost assuredly be far less accurate than the ScanBooth, but for one time use I don't want to spend $25. If you scan a lot of stuff though, this could make the process quite a bit quicker, so long as you don't need crazy high details. Think you'll want to get one, or make one? Let me know in the comments!
Like this? You might also enjoy…
Get more GeekTech: Twitter – Facebook – RSS | Tip us off