If you thought Samsung's 11.6-inch Windows 8 preview tablet was on the large side, it's nothing compared to the touch screen Steve Ballmer has in his office.
The CEO of Microsoft uses an 80-inch touchscreen with Windows 8 for communications and productivity, Wired UK reports. "He's got rid of his phone, he's got rid of his note paper," spokesman Frank Shaw said. "It's touch-enabled and it's hung on his wall."
An 80-inch Windows 8 touchscreen may sound like an exclusive luxury for Microsoft's boss, but Shaw said the company eventually plans to sell the device, though he wouldn't name the manufacturer, the price or a release date.
Microsoft lists 27 inches as the largest common screen size it expects for Windows 8 PCs, envisioning these large touchscreens as "family hub" devices. "Families might opt for an all-in-one desktop with a huge touch screen to view and organize all of the family photos," Microsoft senior program manager David Washington wrote in a March blog post.
Much larger Windows 8 touchscreens would likely be aimed at commercial uses, at least at first. "It's not a consumer thing now, but we know historically that that's how all things start," Shaw told Wired UK. "The idea that there should be a screen that's not a computer, we'll laugh at that in two years."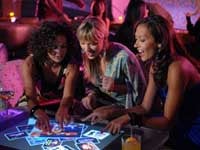 Microsoft experimented with large touchscreens as tabletops when it introduced Surface five years ago. Harrah's Entertainment offered video games on the tabletop touchscreen in its casinos. We haven't heard much about it for a few years, but apparently Ballmer found an application for the big touchscreen.
Of course, in two years Windows may not resemble its current form. Though I don't doubt that Microsoft wants to get gigantic Windows-based touchscreens into people's homes, my bet's on some type of convergence with Xbox for that purpose instead of the straight-up PC software that Ballmer currently enjoys.
Follow Jared on Twitter, Facebook, or Google+ and follow Today@PCWorld on Twitter for even more tech news and commentary.