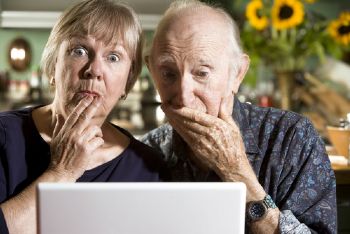 It shouldn't surprise anyone that an online service with more than 900 million members will attract some attention from the porn industry, as Facebook has through the years. That attention has spurred the social network to fight smut peddlers in court, with mixed results. Here's a brief history of Facebook's legal battles with the XXX set.
December 2007. Facebook sues SlickCash, a Canadian company specializing in Internet porn, for attempting to access the social network's servers at least some 200,000 times to obtain information on its users. According to AVN, an adult entertainment news website, that case was settled in April 2008. Under the deal, a permanent injunction was issued against the individuals involved in the incident and they promised not to become members of Facebook for ten years following the date of the settlement.
October 2009. Facebook is awarded $711 million in a civil judgment against Spam King Sanford Wallace who flooded the social network with junk messages. According to the lawsuit, Wallace and two cronies launched a phishing campaign on Facebook to promote porn and gambling sites and were guilty of more than 14.2 million violations of the U.S. CAN-SPAM Act.
April 2011. Facebook files a trademark infringement lawsuit [PDF] against Face Book of Sex website. Lawsuit alleges that the site rips off Facebook features such as profiles and a "like" button. It also encourages members to upload photos, preferably of the pornographic variety. About a year after filing the lawsuit, Facebook obtained control of the facebookofsex.com domain.
May 2011. Facebook challenges a trademark filing with the U.S. Patent and Trademark Office (USPTO) by Shagbook, a site for "no strings attached adult dating" located in the United Kingdom. In its filing [PDF] with the USPTO, Facebook claims that Shagbook's logo is "highly similar" to Facebook's; its services are similar to those offered by Facebook; and that Shagbook was designed to "trade off the fame" of the social network.

Several months later (August 2011), Shagbook answered Facebook's USPTO filing with its own. In that document [PDF], Shagbook questions whether the word "facebook" can be trademarked. It argued that the "term was in common use in the English language well before [Facebook] began using the term in connection with its services." It added that Facebook was "engaged in trademark misuse and trademark bullying by abusively using oppositions, litigation, and threats of the same to maintain a competitive market advantage."
All the trademark wrangling hasn't prevented Shagbook from doing business as usual on the Internet under its off-color name.
December 2011. Facebook files a three-page "cease and desist" letter to Hunter Moore demanding he remove all Facebook screen grabs from his site, Is Anyone Up? Tagged as a "revenge" website, the Net locale allows it members to post nude photos of people along with screen grabs of their Facebook profiles. Moore ignored Facebook's letter and his website continues to do its thing on the Web.
May 2012. A federal district court judge in California punts on a trademark infringement case brought by Facebook against a Norwegian website called Faceporn that bills itself as "the number one socializing porn and sex network." According to a decision [PDF] handed down by Judge Jeffrey White, his court had no jurisdiction to hear the case because the website's activities weren't directly aimed at residents of California. It takes more than registering someone else's trademark as a domain name and posting a website on the Internet to prove that an act was directed at California, he wrote. Facebook is mum on whether it will pursue its case in Norway.
Follow freelance technology writer John P. Mello Jr. and Today@PCWorld on Twitter.