At a Glance
Expert's Rating
Pros
Slick centralized launch application
Comprehensive media playback, editing, organizing
Cons
Doesn't recognize DirectShow filter
Heavy footprint
Our Verdict
This comprehensive multimedia playback suite comes with full 3D capabilities but suffers from some small oversights.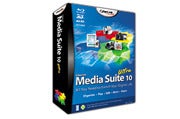 CyberLink Media Suite 10 Ultra is the latest flagship version of CyberLink's all-in-one multimedia editing, playback, and file-conversion suite. The components consist of the biggest names in the company's rather impressive portfolio: PowerDVD 12, a software multimedia player; PowerDirector 10, a video editing and production application; MediaShow 6, a photo organizer, editor, and social media interface; PowerBackup 2.6 for safeguarding your important files; and MediaEspresso 6.5 for transcoding video, photos, and audio. The suite ($130 for new users and a $70 upgrade for previous users, prices as of June 21, 2012) also includes PowerProducer 5.5 for outputting video to disc, as well as a competent wave editor and several modules for handling mundane optical-disc chores.
Media Suite 10's new central launch application is far slicker than those of previous versions. The look is reminiscent of Microsoft's Metro interface, which suggests that CyberLink will be all over Windows 8. You can access Media Suite 10's modules via a list of the tasks they perform, or by their names if you prefer. In general, the suite's modules are easy to use, though not so easy to learn. CyberLink loves tiny icons, and curious interface choices appear throughout; however, compared with its two main competitors in the suite game–Nero and Roxio–Media Suite 10 is a breeze to navigate.
Although Media Suite 10 has many new features, the most salient is its suitewide support for 3D video and photos. If you've been keeping track of the component programs, though, that probably isn't news to you; PowerDVD 12, for instance, acquired 3D capabilities a while ago.
We've reviewed PowerDVD 12 and PowerDirector 10 individually, so be sure to see those reviews for a more detailed look. In short, PowerDVD 12 plays back every major type of video and video disc, up to and including 3D Blu-ray, and it has a ton of advanced playback enhancements. It's also a competent photo and music organizer. PowerDirector 10 is an excellent consumer-level video editor with multiple video tracks, effects, automatic formatting, full hardware-acceleration support, and lots of editing tools. PowerProducer 5.5, the companion program to PowerDirector, serves to burn PowerDirector 10's output to disc. Both programs fully support AVCHD, Blu-ray, and 3D.
As for the other applications in the suite, the photo-oriented MediaShow 6 makes it easy to create slide shows, touch up images, and interact with online social media. You can import photos from Facebook, Flickr, and YouTube into a slideshow, and the program will automatically add a soundtrack and handle transitions for you if you're in a hurry. Finer control over those elements is available, if you have more time to be creative. The program also supports uploads to the social sites.
MediaEspresso 6 is nice little conversion program that handles a lot of formats and devices. I was pleasantly surprised to find that the program could convert and optimize photos, video, and music automatically for my rarely supported HTC HD7 Windows Phone 7 handset. Of course, the program also supports the usual targets, namely Android and iOS phones and tablets.
If I have any gripe to register against Media Suite 10, it's that none of the modules support DirectShow filters, so you can't play anything that Media Suite 10's applications don't natively support. They support quite a few, including the MKV container, but FLAC (a lossless format that's very popular in classical and audiophile circles) and the OGG Theora video format are missing in action. Less important, but also missing, is support for RealMedia and some Apple formats. The absence of FLAC support somewhat prevents the suite from being a universal media package, at least in my case.
While Media Suite 10 Ultra costs $130 for new users, the Pro version, which omits Blu-ray support, costs $100. Whether a media suite lacking Blu-ray support should be called "Pro" is debatable, but there it is.
Appellations aside, Media Suite 10 Ultra's only real competition these days is Roxio Creator 2012, an $80 suite. But Roxio has nothing to rival PowerDVD 12's playback capabilities, a difference that puts Media Suite 10 Ultra in a class of its own. As CyberLink alternatively describes it, this suite is an "11-in-1 Digital Media Value Pack." Now if the company would only add that darn DirectShow support.