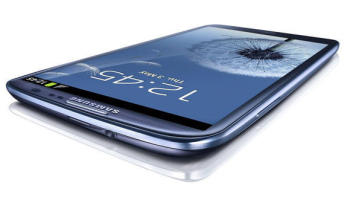 The Samsung Galaxy S III arrives this week in Europe and the first reviews are in to give you an idea about what to expect from the phone when it hits the US shores. Samsung and wireless carriers have yet to announce when the Samsung will be available here in the US.
The delay is likely due to certain customizations, on the inside and outside, carriers are requesting. But, if you must have Samsung's latest hot phone now, you can get one unlocked from Amazon from Friday for $800. But if you're patient, you'll be able to get one for much less on a contract when it arrived stateside.
(See Related: Samsung Galaxy S III: Hands-On With a Smartphone Sensation)
First, a quick S III refresher: the Android 4.0 smartphone features a huge 4.8-inch display, 1GB of RAM, an 8-megapixel camera and a quad-core 1.4 GHz Exynos processor. Note that the US version of the phone is likely to feature a different, dual-core processor in order to accommodate 4G LTE connectivity.

Reviewing for The Verge, Vlad Savov says the Samsung Galaxy S III is "a technological triumph." He praised the camera, saying it's "easily the best I've used on an Android device," but pointed that "the extra-large size of this phone, even with its great ergonomics, may prove to be a stumbling block for those who can't comfortably fit a 4.8-inch handset into their daily routine."

A PhoneArena review also mentions the S III's bulkiness, despite its thin profile. "You'll definitely have to forget about the comfort of using it with one hand only. But that's the way it is with this new breed of Android superphones. If you want to have a giant touchscreen, then you'll have to put up with having a giant phone."

Sharif Sakr at Engadget also gave top marks to the S III's camera, but notes that the HTC One X might be a better choice when it comes to "a much better user interface that sticks more closely to the guiding ethos of Android 4.0." As with previous iterations of the phone, Samsung uses its TouchWiz UI on the S III, and also added some useful features such as swiping contacts to call or message them, and less useful gimmicks like S Voice — an iPhone 4S Siri look-alike which Sakr said "doesn't work as quickly or as intelligently, and it often cuts you off mid-sentence, thereby wasting time interpreting meaningless fragments of requests."

Pocket-lint's Chris Hall said "there is a lot to love about the Samsung Galaxy S III" he reviewed. "The huge display, the power, the smooth and fast operation are all to its credit. Add to this the ability to change battery and expand storage and you've a very good package indeed." But he notes that the display could be brighter (the battery-saving feature seems to dim the display a bit too much) and the UI can be a bit cartoony in places.

Gareth Beavis at TechRadar thought the S III's design is "very sleek and the weight is minimal too – and battery life borders on the stellar at times." "If the Samsung Galaxy S3 had landed with a premium metallic shell, in the same vein as the HTC One S for instance, any question of design standards would have been obliterated." Overall though, Beavis ranked the S III as "the best smarpthone on the market. It's got every kind of feature we could ask for and more, and raises the bar once again in terms of what consumers should be expecting in terms of battery life, processor speed and media management."

SlashGear's Chris Davies was not too keen on the plastic shell of the S III either, but said "if your phone has become your multimedia and entertainment hub; if you love a sizable display for gaming, browsing, navigation and multimedia; if you demand high-quality photos and video without bulk; and if you want to future-proof yourself over the typical two-year contract, then the Galaxy S III delivers all that in spades."

In her review on the Galaxy S III, Silicon Republic's Elaine Burke takes a stab at Apple's iPhone ads, saying "it's hard not to be wowed by the speed of the Samsung Galaxy S III, which performs like phones do in advertisements, only this one doesn't need a 'sequence shortened' disclaimer." She also favors the HTC One X for certain tasks, noting that "photo enthusiasts and those who want the best in display are probably best off with the HTC One X, but if your priority is performance, the S III won't steer you wrong."
Read PCWorld's own hands-on review of the Samsung Galaxy S III.