Samsung Tuesday announced a faster Series 5 Chromebook netbook and, at long last, the Chromebox — a mini-PC that also runs the web-centric Google Chrome OS.
Refreshed Chromebook
The new Samsung Chromebook Series 5 550 looks the same as its predecessor, the Chromebook Series 5 from last year. However, the 550 has a few important upgrades. The netbook retains its 12.1-inch 1280 by 800 pixel display and 3.3-pound weight, but doubles its RAM from 2GB to 4GB. The 550 also gets a processor upgrade — an Intel Celeron dual-core processor, instead of last year's Intel Atom processor.
These hardware upgrades should help the 550 overcome some of the sluggishness we saw in our Series 5 Chromebook review.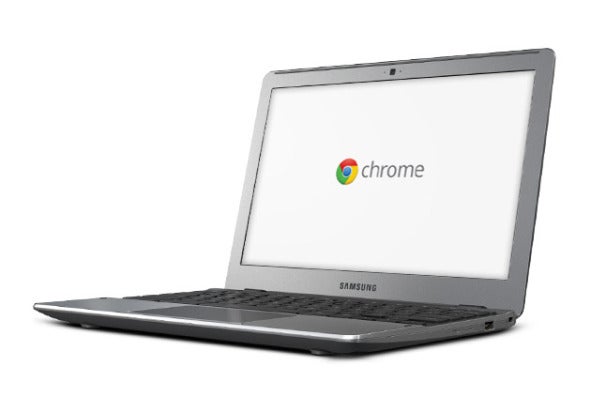 Samsung says the new Chromebook is 2.5 times faster than the previous model, with a boot-time of 7 seconds instead of 10. The Chromebook's instant-on capability may be even more impressive now.
On the downside, the new Series 5 Chromebook has a shorter battery life rating: 6 hours versus the previous generation's 8.5 hours. Pricing is a bit higher too: $449 for the Wi-Fi version (versus $430 last year) or $549 if you want built-in 3G ($499 last year).
You'll also get some new functionality from Google's Chrome OS updates, which include a new app launcher, customizable background, multi-window support, Google Drive integration and Google Docs offline editing, and a remote desktop app.
In short, the laptop hardware is still pretty basic but updated for better performance, and the Chromebook's cloud capabilities have been improved. As laptops designed solely to get you online, Chromebooks were never meant to be powerhouses — but working on the web with a Chromebook should be much faster and more responsive. With budget laptops priced about the same as, or even lower than, these online-only laptops, however, Chromebooks may still be a tough sell.
New Samsung Chromebox
Samsung also introduced a new desktop PC running Chrome OS, the Samsung Chromebox Series 3.
Like the Series 5 Chromebook, this mini-PC has an Intel Celeron dual-core processor and 4GB of RAM. For connectivity, the Series 3 Chromebox offers wireless-N, Gigabit Ethernet, Bluetooth 3.0, DVI, six USB 2.0 ports, and two DisplayPort++ outputs. The DisplayPorts are compatible with HDMI, DVI, and VGA.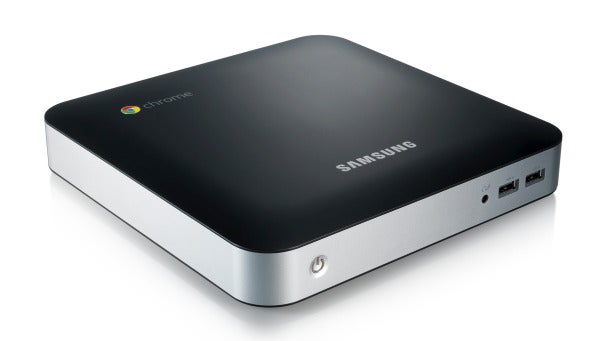 The whole thing weighs just 2.45 pounds and is a 1.3-inch thick, 7.6-inch square.
Priced at $329 (no monitor, keyboard, or mouse included), the Series 3 Chromebox is an inexpensive alternative to the $599 Mac mini. The Chromebox, however, lacks an HDMI port, more powerful Intel Core i5/i7 processors, and discrete graphics.
Again, because the operating system is designed primarily for online applications, the Chromebox doesn't really need more powerful hardware — but it's hard to imagine many consumers buying these when for a bit more they could get a more powerful mini desktop PC. Chrome OS devices have shown their usefulness, however, in businesses and schools.
Follow Melanie Pinola (@melaniepinola) and Today@PCWorld on Twitter