At a Glance
Expert's Rating
Pros
Images, partitions, and creates virtual machines
Cons
Busy interface
Doesn't mount images as virtual drives
Our Verdict
Hard Disk Manager is easy, complete and reliable toolset for hard disk management: partitioning, disk imaging backup, boot management, data and system security, simple recovery. Convenient and clear interface, smart wizards.
Paragon Hard Disk Manager 12 Professional ($100 as of June 1, 2012) is as comprehensive a toolset for hard drives as you'll find. It has full backup, imaging, and partitioning capabilities, and it also supports virtualization software such as VirtualBox and VMware by allowing you to create virtual machines for those programs.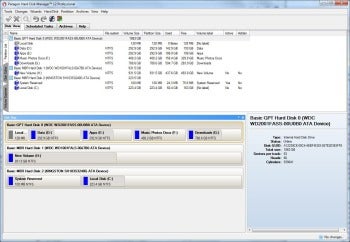 HDM hasn't changed a whole lot since the last version; it was already so comprehensive, however, that Paragon simply didn't have that much to add. The short list of partition functions includes creating, moving, formatting, deleting, backing up, burning to CD, converting the file system, and wiping. You can do the same things with entire disks, as well as convert them from MBR to GPT. You can also back up and restore individual files and folders.
Included in HDM 12 Pro are all the features offered in the company's Virtualization Manager: You can convert a partition to a virtual machine and back, convert a Windows 7 backup image to a VM, and restore from a VM to diverse hardware. The program also handles dynamic disks, merges images, manages multiple backups in archives, and performs a host of other tasks I don't have the room to discuss here. A features list comparison between the professional edition and the less expensive suite version is available at the company's website.
I love the everything-under-one-roof concept of HDM 12's interface. It's far more convenient than jumping around between modules, as with other programs such as Acronis True Image and Disk Director. I also like the fact that you define a series of actions, and then set them in motion using the Apply button. However, I don't see why the program needs to instill even a slight hint of paranoia by asking if you really want to apply the changes when all you're doing is backing up. (On the other hand, you can set several backup jobs to go off consecutively using the define/apply methodology.) On top of that, while the interface is fairly straightforward, I'd rather see standard Windows file dialog boxes, which are to my mind easier to use than Paragon's custom boxes.
For version 12, Paragon is touting a new imaging engine with better performance. Normally I dismiss claims like this as overblown before I've even tested them, and usually I'm correct in my assumptions. In this case, though, I found HDM 12 to be not only fast but also noninterfering. In fact, I wrote the majority of this review with the program humming away in the background, and I forgot that it was running.
One feature that is missing from HDM 12 is the ability to mount an image as a virtual hard drive that you can peruse in Windows Explorer. R-Drive Image and True Image do this, and I've found it to be a handy way to quickly pull a file or two out of a backup. HDM 12 lets you connect to an image to perform partition and other operations on it, but doesn't mount it.
Backup, virtual machines, partitioning, conversion–Hard Drive Manager 12 Professional is a powerful toolkit. At $100, it is a bit pricey for the average user, so be sure to check out the aforementioned $50 suite version to see if that will cover your needs.
Note: The Download button takes you to the vendor's site, where you must register to download the latest version of the software.
–Jon L. Jacobi