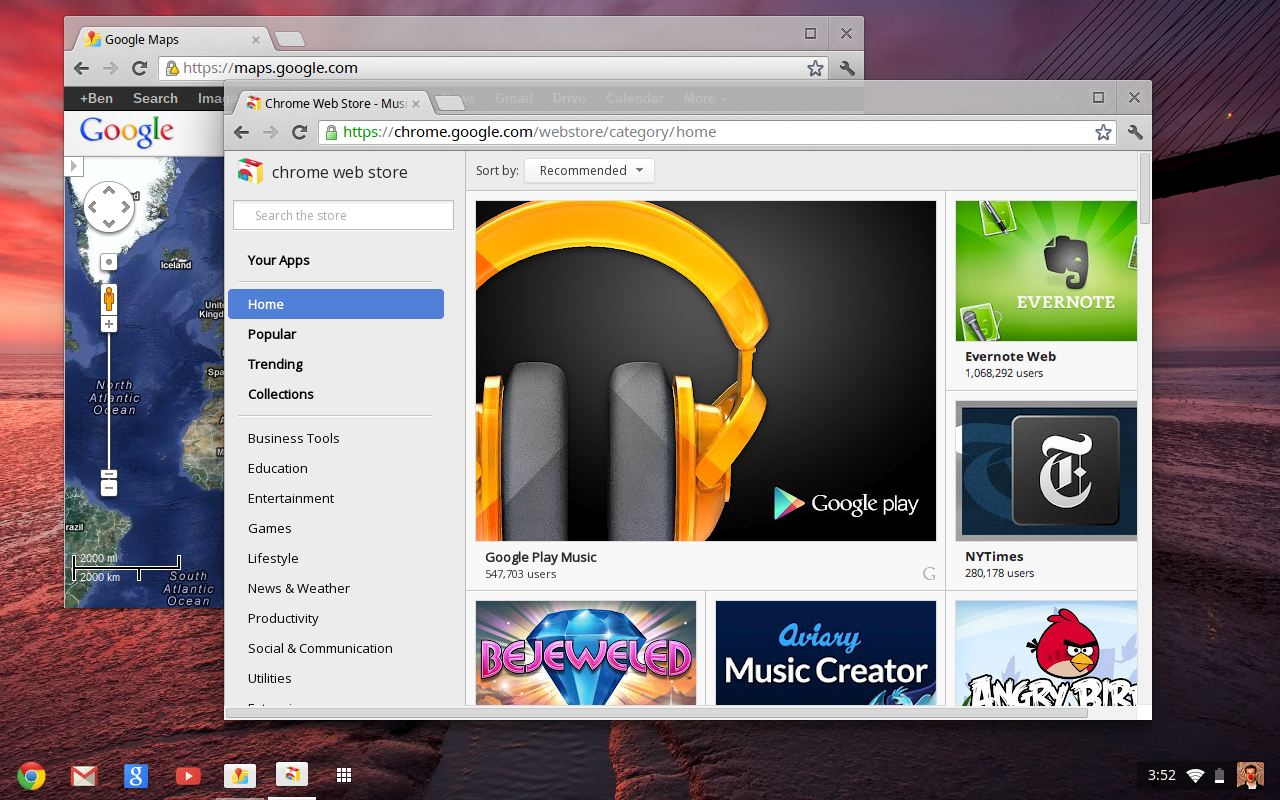 Google's Chrome OS may be all about the Web, but the latest version of the search giant's operating system adds a traditional desktop look to Chromebooks including features familiar to any PC user. Instead of having one monolithic browser window with an endless number of tabs, Chrome OS has a new window manager that lets you open multiple windows at once. You can also snap a window to each side of the screen to view two separate windows at once similar to the Aero Snap feature in Windows 7.
At the bottom of the screen, the new Chrome OS features a Windows-style taskbar for pinning favorite apps, accessing a list of all your apps, and a system status area off to the right. You can also change the background image and customize the app launcher with the new Chrome OS look.
Users and developers got their first taste of Chrome OS' new desktop feel, codenamed Aura, in April through Google's developer update channel. Aura is now rolling out on new Chromebooks such as the recently launched Chromebook Series 5 550 (starting at $450) and Mac Mini-like Chromebox ($330), both from Samsung.
Chromebooks are apparently finding at least a small user base with schools looking to distribute cheap PCs to students, but Google's Web-centric laptops have not caught on with regular users in any significant way.
At first glance, Chrome OS makes a lot of sense for almost anyone looking for a secondary PC. The average person uses their computer largely to get online and check e-mail, update Facebook, watch videos, and create the odd document. Chrome OS can handle all of these tasks and Google is promising more enhancements such as offline Google Docs editing in the coming weeks.
But dig a little deeper and you'll find that you can't access full-powered photo and video editing tools, or store more than 16GB worth of data on the device's puny SSD. Yes, there are online alternatives, but many are still not good enough to match up with their desktop equivalents.
As PCWorld's Jason Cross pointed out in his first Chromebook Series 5 review, finding Chrome OS alternatives to powerful desktop apps can often feel like a hunt for workarounds. Until Chrome OS can solve that fundamental problem, Google may have a hard time winning over users. Even with its new desktop feel.
Connect with Ian Paul (@ianpaul) on Twitter and Google+, and with Today@PCWorld on Twitter for the latest tech news and analysis.