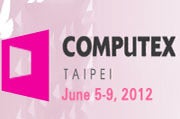 Windows 8 and ultrabook laptops are expected to take center stage at the Computex trade show in Taipei next week, as industry giants Microsoft and Intel try to develop products that can compete better against Apple's iPad.
Microsoft, Intel and local PC vendors such as Acer and Asus all are expected to show off tablets with the upcoming Windows 8 OS, as well as thinner and lighter ultrabooks running Intel's latest processor, code-named Ivy Bridge, said Thomas Huang, the manager in charge of organizing Computex.
The Windows 8 products should be especially interesting to watch. This will be the first release of Windows developed for both x86 and ARM-based processors. ARM chips are used in most of the world's smartphones and tablets and could help Microsoft compete better against Google's Android software and Apple's iOS, which dominate those categories.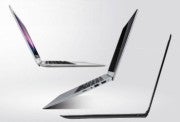 Ultrabooks, meanwhile, are a type of thin and light laptop backed by Intel and introduced at Computex last year. They're seen as the PC industry's response to the iPad, which is eating into sales of more traditional personal computers.
Both Windows 8 and Ultrabooks incorporate design elements intended to make them more mobile. Windows 8 has been optimized for touch and includes a new "Metro" interface that looks more like the current Windows Phone software than a traditional Microsoft desktop OS.
Computex officially opens its doors next Tuesday, but many of the big components and systems vendors are holding press conferences the day before the show. As well as being a launch pad for PCs and tablets it's also a place to see the latest in digital TVs, displays, gaming systems, in-car computers and many other types of electronics.
Consumer cloud services like Apple's iCloud may also be a theme this year. Acer announced an online storage service at last year's Computex, and other vendors seem likely to follow suit.
All Eyes on Microsoft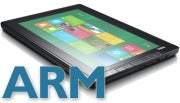 But all eyes will be on Microsoft to see how the version of Windows for ARM devices, known as Windows RT, is progressing. A few ARM-based Windows tablets were shown at the Consumer Electronics Show earlier this year, but for the most part they were behind glass.
Windows 8 faces an uphill battle in tablets, according to Bryan Ma, an analyst with research firm IDC.
Microsoft may enjoy some pull-through from business people who want a tablet that runs Windows, he said. But Windows 8 tablets are expected to be priced higher than the competition. "We estimate that Windows 8 tablets will be around US$600," Ma said. In comparison, Apple's newest iPad starts at $499, while Amazon's Kindle Fire Android tablet goes for $199.
A bigger problem is that Apple is so well-established in the tablet market. Microsoft has yet to announce an official release date for Windows 8, but Ma expects it to launch near the end of the year.
"Even after Windows 8 is launched, I think you're still going to have people think about the Apple iPad rather than Windows 8," Ma said. "How do you make Windows 8 'cool,' and how long will that take?"
Windows RT will run on processors from ARM licensees Qualcomm, Nvidia and Texas Instruments. However, Qualcomm has said it may struggle to meet the demand for its latest Snapdragon S4 processors due to manufacturing issues. At least one analyst has said that could delay the launch of Windows 8 devices based on the S4 chips.
Windows 8 and Ultrabooks
While Windows 8 could face a long road in the tablet market, the OS could be a selling point for Ultrabooks. The laptops are intended to be thinner and lighter than existing x86-based products, and the novelty of a touch interface could appeal to some users.
Ultrabooks have gotten off to a slow start because few models have been released, and because prices have been higher than consumers have been willing to pay, said Gartner analyst Tracy Tsai. They've sold for $800 to $1,000, and prices need to be at $500 to $700 to improve sales, she said.
Intel is aware of the challenges and has said Ultrabooks will get down to $699 in time for the back-to-school shopping season.
Seventy-five Ultrabook models are in development from various vendors, according to Intel.
PC vendors will show a variety of these systems at Computex, some that look like traditional laptops and others with folding, swivel screens that try to be both laptop and tablet, Tsai said. A touchscreen will add at least $100 to the price of an Ultrabook, she noted.
(Agam Shah in New York contributed to this report.)