Acer, one of a trio of manufacturers expected to commit early to Windows 8 on tablets, is the first onto the floor with an announcement on the eve of the Computex trade show in Taipei. Just days after Microsoft began offering its Release Preview version of Windows 8, Acer announced a pair of Windows 8 tablets that the company expects to ship later this year.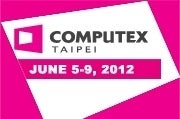 Details so far are thin, with nothing about dimensions, weight, storage, memory, and the like. In fact, the early reports out of the press conference give more detail than we've heard other manufacturers are likely able to provide in upcoming announcements this week.
As with its current Windows 7 tablet, the AMD-based Iconia Tab W500, Acer invokes a "W" before each model name to connote "Windows" instead of the "A" for "Android used elsewhere in the Iconia lineup, but the Windows 8 models drop the "Tab" from their names. Both the Iconia W510 and the Iconia W700 are Intel-based, both using x86 architecture, which means they should be able to run full-on Windows 8, including the desktop mode. (Windows 8 tablets using ARM system-on-chip processors will be limited to just Windows RT, which can access only the new Windows Metro interface and not the desktop interface for use with classic apps.)
Meet the Acer Iconia W510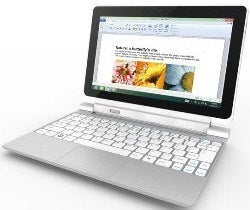 Interestingly, the W510 uses an Intel x86 SoC — even though its model number implies that it's the successor to the current W500 Windows 7 model. Acer is supplying only minimal specs for the W510. It has a 10.1-inch IPS touchscreen at 1280 by 800 pixel resolution; that resolution puts it in line with the vast majority of existing Android tablet displays.
Acer is hyping the W510's "unique" tri-mode, so a user can "touch, type, and view." The unit will have a detachable clamshell keyboard dock — similar to what's on the current W500 — that doubles as an extended battery, similar to how Asus' Transformer series' docking station functions. Acer says the extended battery life should hit up to 18 hours using Windows 8.
Workhorse Acer Iconia W700
The W700, billed as the "performance" Windows 8 tablet, sounds especially intriguing. It packs an 11.6-inch 1920 by 1080 pixel touchscreen, a spec that immediately makes it infinitely more interesting than most of the Android masses we've seen of late. Like the W510, it has a multipurpose dock; here, you can tilt the display up to 70 degrees, or 20 degrees for more convenient touch. It can also be positioned vertically, useful for reading pages of documents or browsing the Web.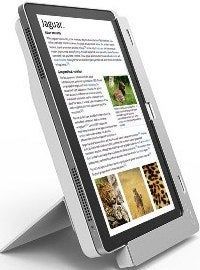 For added versatility, Acer includes three USB 3.0 ports on board. That, coupled with the high-def display and Acer's claim of up to eight hours of battery life, makes the W700 very compelling.
The biggest surprise of Acer's news is that, according to reports, the company actually tossed out price ranges for these products, in spite of how far out they are from release. (Windows 8 is expected to ship sometime in the next four months.) Granted, all Acer gave is a range — and a wide one at that — but it's a pricing guideline nonetheless.
Acer expects the Intel SoC-based W510 to fall in the $400 to $800 price range; while that's the first ballpark figure we've heard for Intel SoC Windows 8 tablets, it doesn't narrow things down in a meaningful way. Will it compete with iPad? Will it seek a different market than iPad? We've no way to know until we hear more about specs and get a narrower pricing range.
The W700, as a more performance-oriented model, seems to be targeting that market with a reported price range of $800 to $1000. That's a bit lower than the current Samsung Series 7 Slate, but not by much.