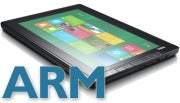 Asustek Computer (Asus) on Monday showed off a tablet with an ARM processor and the Windows RT OS, becoming among the first of its type shown by PC makers.
The product, called Asus Tablet 600, has an 10-inch display and a quad-core Nvidia Tegra 3 CPU. The tablet was shown running Windows RT Tablet Preview edition during the Asus news conference at the Computex trade show in Taipei.
The tablet weighs 520 grams, and is 8.35 millimeters thick. Asus did say when the device will be available.
The device is intended to be a highly mobile device, said Jonney Shih, chairman of Asus, during a speech at the news conference.
The device is a breakthrough for Microsoft and ARM, who have worked closely to bring the new OS to devices. ARM processors are found in most smartphones and tablets, and the new device provides a path for Microsoft to compete with other operating systems including Apple's iOS and Google's Android OS.
The new Asus tablet also adds weight to ARM-based devices running Windows, and a possible avenue for Microsoft to break away from its reliance on x86 chips for Windows. Windows grew up on Intel's x86 chips, and so far Windows on ARM devices have only been shown by chip makers such as Nvidia, Texas Instruments and Qualcomm, and users have not been allowed to play around with them freely.
The Asus tablet has a quad-core Tegra 3 processor from Nvidia. Windows RT comes preloaded with Office 15, a group of widely used productivity applications. Microsoft has said it had to re-engineer Windows RT to deal with expectations for ARM based devices, which include all-day connectivity and low power consumption.
The tablet also has an 8-megapixel camera at the rear with LED flash, and a 2-megapixel camera at the front. It has 2GB of RAM, 32GB of storage, Wi-Fi and Bluetooth 4.0.
Intel has already started the war of words against ARM around Windows 8, with Intel's CEO Paul Otellini saying that ARM devices will be incompatible with existing Windows applications and drivers. But analysts have said that Windows RT devices will likely be attractive to users who have few ties with legacy Windows PCs. Low prices could also attract users to Windows on ARM devices.
Agam Shah covers PCs, tablets, servers, chips and semiconductors for IDG News Service. Follow Agam on Twitter at @agamsh. Agam's e-mail address is agam_shah@idg.com