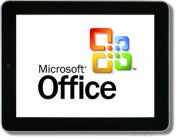 Conjecture about Microsoft releasing a version of its business productivity suite Office for the iPad has begun to coalesce around a November release date.
The latest media outlet to fall in line with that prediction is Business Insider, which reported Sunday that a source "familiar" with the Office sales team said that the product will be announced at the Microsoft SharePoint conference, which will be held in Las Vegas November 12-15; be available for sale during the holidays; and be ready for volume licensing at the beginning of 2013.
Pulling the wraps off a tablet version of Office at the SharePoint conference suggests the company sees the software as an enterprise rather than a consumer product, although there are plenty of consumers interested in a slate edition of the suite. SharePoint is Microsoft's software for collaboration within organizations.
The November time frame for Office for the iPad emerged in May when the Boy Genius Report (BGR) reported that target date and revealed that Microsoft planned to release an Android version of Office at the same time it released the software for the iPad.
Last week, The Daily affirmed the November launch date. It also reported that it had learned that the internal team working on the software had finished its work on the app and it had also passed design review. It is now being reviewed for Metro compliance. Metro is Microsoft's controversial smartphone-style interface for its upcoming Windows 8 operating system.
Speculation about Office for the iPad reached a fever pitch in February when The Daily published a photo of what was purported to be a version of the app running on an iPad "in the wild." At the time, Microsoft denied the authenticity of that photo, but declined to comment on whether or not it was developing a tablet version of its popular productivity suite.
All the guessing about a tablet version of Office has set off a debate about the wisdom of releasing such a product. On one side, there are those who argue that Microsoft needs to restrict slate versions of Office to tablets running a version of its Windows 8 operating system. That strategy would allow it to rapidly gain market share for the new tablets, they reason.
Others contend that if Microsoft wants its Office suite to remain relevant in the personal computer market—a market increasingly dominated by tablet computers — it must make a version of it that runs on the dominant players in the market. Those players are the iPad and Android tablets.
Follow freelance technology writer John P. Mello Jr. and Today@PCWorld on Twitter.